Welcome to Radical Tradition - Aotearoa
There are many similarities and cross influences in the radical tradition of Australia and Aotearoa (New Zealand). Many labour and community activists have lived and put in much effort on both sides of the Tasman. My first contribution to this area is a pamphlet published by Frank Prebble in Christchurch. I take great pleasure in making its contents available over the Internet. Takver, August 21st 1999.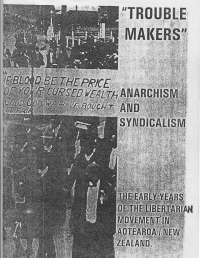 Some Useful Anarchist History Links
Wobblies Down Under: The Swedish-American radical socialist, songster and poet Joe Hill, became a martyr for the working classes world-wide when he was executed in 1915 for a murder he almost certainly did not commit. His ashes were distributed around the world including New Zealand but no trace of them has ever been found here. Researcher Jared Davidson set out to track them down but in the process uncovered the story of the Industrial Workers of the World (IWW, known as the 'Wobblies') and their repression in New Zealand during the early 1900s and World War 1. From Radio New Zealand National

Some anarchist History from Thrall: Anarchist News and Views from Aotearoa/New Zealand
Thr@ll magazine is published by an independent collective of anarchists currently living in Wellington and Christchurch, Aotearoa/New Zealand. It was launched as a monthly in July 1998 and changed to its current bi-monthly format in April 1999. You can find Thr@ll on the web at:
http://free.freespeech.org/thrall/

Aotearoa/Pig Island: Fragments of a Neglected History
A collection of radical images and texts
http://www.geocities.com/the_third_eye_website/nz_fragments/NZ_fragments.htm

Class War in Aotearoa is a platform-based libertarian-socialist group in Auckland.
http://go.to/classwar
The site includes a page on the death of Neil Roberts and the bombing of the wanganui police computer on November 18, 1982 at 12.35 a.m. Neil Roberts was a 22 year old punk anarchist. http://cw178.tripod.com/neil1.htm

Committee for the Establishment of Civilization is the Wellington branch of the Anarchist Alliance of Aotearoa. They run the Freedom Bookshop in Wellington, publish The State Adversary and are active in several other projects and campaigns. Vist them at:
http://www.tao.ca/~cec/

Maori Independence Site
Maori indigenous history of self-determination and resistance to colonisation.
"Maori have a long tradition of struggle and resistance against colonisation and the Crown sponsored theft of Maori land and resources. This site focuses on the ongoing struggle for Tino Rangatiratanga and the people who continue to resist the pressures of colonisation and cultural and economic genocide.

There are many different meanings for Tino Rangatiratanga and the concept itself is part of a rich and ongoing debate in Maori society. The word 'tino' is an intensifier and the word 'rangatiratanga'broadly speaking relates to the exercise of 'chieftainship'. Its closest english translation is self-determination -although many also refer to it as 'absolute sovereignty' or Maori independence. Such a concept embraces the spiritual link Maori have with 'Papatuanuku' (Earthmother) and is a part of the international drive by indigenous people for self determination.

No reira, nau mai, haere mai, tautoko mai,... tautoko tenei kaupapa i ahu mai nga matua tipuna anei ta ratou kupu kia whakapaingia ta tatou wahanga ipurangi."
---
Contact Takver with questions or comments about this web site.

This Page can be found at: http://www.takver.com/history/nz/index.htm
Last modified: October 24, 2011