Syd Nicholls - radical comic artist
The I.W.W. - Fatty Finn Connection Revealed.
Provided by the Question Mark Collective as part of a forthcoming anthology on Australian Troublemakers to be published by Melbourne based Scam Publications.
---
Syd Nicholls' fame amongst the public largely rests on his most famous creation Fatty Finn. However the artist was also responsible for one of Australia's most controversial cartoons of the First World War. In another achievement he produced Australia's first comic book and helped launch the careers of a number of well known Australian artists in the process. The following article details his career and his many battles with publishing industry bosses.
Sydney Wentworth Nicholls was born in Tasmania in 1896. Originally named Jordan he became Nicholls when his mother remarried. He spent much of his childhood in New Zealand where his stepfather worked constructing railway bridges. In 1910 he got his first job with the NSW printing firm of W.E. Smith. At the same time he began studies at the Royal Art Society in Sydney under the tutelage of Norman Carder and Dattilo Rubbo. Two years later, at the age of 16, he had his first cartoon published in the pages of the International Socialist. The satirical piece featured an attack on the former radical turned Prime Minister, Billy Hughes. By 1914 he had work published in the Bulletin and was reportedly hanging out with a variety of wild bohemians. Throughout his career his work appeared in radical and union journals such as The Worker, The Tribune, The Seaman's Journal and Education.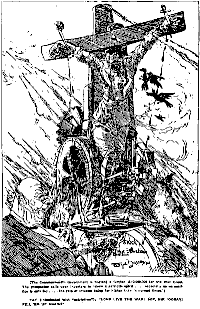 Most famously he contributed a series of vociferous cartoons to the Industrial Workers of The World (I.W.W.) newspaper Direct Action. Beginning his work during the first week of World War One Nicholls caught the I.W.W. in its most combative phase matching the groups articles with scathing attacks on politicians, capitalists, religious leaders and all the others who rode on the back of the working class. One of his works ran on December 4th and was created in disgust at the raising of a $20 million war loan by the Federal Government. The cartoon featured a capitalist vampire draining money from the veins of a crucified soldier. At the bottom of the page Direct Action's editor Tom Barker noted that "PM Hughes has offered another 50 000 men as a fresh sacrifice to the modern Moloch. Politicians and their masters have always been generous with other peoples lives".
This piece was to win Nicholls a place in history as it led to Australia's only prosecution of a newspaper editor for running a cartoon. Tom Barker recalled the situation in discussions with Eric Fry in 1965 when he said "We had a good cartoonist at the time, Syd Nicholls. He was a young fellow who could get a bright idea... the prospectus for a new war loan had appeared, pointing out that this was a good investment, because the interest was far higher than in normal times. So Syd got this idea. He made a cartoon of a gigantic field gun with a soldier crucified on top of it and top hatted persons collecting his dripping blood in bowls. Underneath it we put this piece from the prospectus of the new war loan... nothing happened for a couple of months. Then, in a big training camp in Western Australia, an officer came upon this and made a big song and dance about it. I was brought to court... and convicted of 'Prejudicing Recruiting'. They didn't make any mistake. They kept me tied up and when I came back before the beak he fined me 100 pounds or twelve months. Of course I refused to pay the fine and my appeal was dismissed. I had to go to jail."
Due to the I.W.W.'s anti war efforts in Australia and abroad, the authorities targeted them extensively, infiltrating the group and using any means available to harass them. The cartoon prosecution was just another example of the campaign against the IWW although Barker noted that the paper may have had a "friend" in the censors office because much of their material had previously passed by unscathed. As the publisher of the paper Barker copped the sentence and Nicholls remained at large. Within a short time a number of other leading IWW members in WA and NSW were to join him behind bars on framed up charges of conspiring to cause explosions as well as sedition.
Undaunted Nicholls continued to produce work for the IWW until its collapse in NSW. The post war period saw him unable to gain any work in comics as a result of the Direct Action case. As a result he turned his artistic talents to the emerging Australian film industry. During this time he created the art titles and poster for "The Sentimental Bloke" and in 1920 travelled to the US to study art title design. By the time he returned things had cooled off enough for him to gain a job as a senior artist at Sydney's Evening News.
Whilst at the News he was asked by managing editor, Errol Know, to produce a Sunday strip to compete with the Sunday News hugely popular "Us Fellers". "Us Fellers" was produced by Jim Bancks and was later renamed after its main character Ginger Meggs. Knox reportedly requested a "domestic strip" stating that "The Sunday Times and Sunday Sun are both running a colour comic and we have to do something to compete". In reply Nicholls came up with the strip "Fatty and his Friends" which featured a Billy Bunterish type character and drew its humour from the cruelty and mishaps of children caught up in a harsh school system. Within a year Fatty had evolved into a slimmer, more sympathetic character whose adventures were based around friends and family. The strip was renamed "Fatty Finn" and proved to be a huge success running for almost 45 years.
A film adaption called "Kids Stakes" appeared in 1927 and featured Nicholls hunched over his drawing board. The success of his strip allowed Nicholls to help spearhead the popularity and technique of newspaper comic strips (as opposed to one panel cartoons) and to help fledgling artists such as May Gibbs and Aub Aria. Despite the fact that his work was widely regarded as "One of the best drawn comics strips in the world" he became increasingly frustrated by its limitations.
Early on in the piece he tried to lead the strip into a more adventure oriented focus only to be pulled back into line by his editors. Some of the frustration at his inability to expand the boundaries of "Fatty Finn" was fuelled by the competitive jealousy he shared with Jim Bancks. In 1929 this feud led to a public and heated clash between the two over the use of the word "beaut". Nicholls claimed that Finn had first used it and that it had become one of the character's trademarks. He claimed Ginger Meggs' increasing use of the word was an obvious rip off. For Bancks' part he claimed that it was just another word in the English language and that he would use it whenever he liked. In the end neither of them backed down and took to avoiding each other.
In answer to his editors Nicholls launched a full blown adventure strip entitled "Middy Malone". He also began illustrating for another strip "Sylvia Seventeen". In 1930 The Sunday News was amalgamated with The Sunday Guardian (which had become the home of Meggs) and the two comic characters were forced to unhappily co-exist in the one colour supplement. Despite his success with "Fatty Finn" Nicholls decided in 1931 to follow his passion and take his adventure strips to the US. Arriving in the midst of the Depression he was to find little interest from comics firms on the verge of bankruptcy. He quickly ran out of money and was forced into various illustrating jobs such as drawing "Little Orphan Annie" in New York. Bitterly disappointed he returned to Australia in 1932.
Having left enough work to cover his absence he picked up with "Fatty Finn" again. He also became one of the leading figures in the campaign against the syndication of comics. Whilst increasing individual fortunes, the appearance of one strip in many newspapers deprived the industry as a whole. Ever the supporter of his fellow creators Nicholl's took up the cause and ran with it for the rest of his life.
In 1933 he was inexplicably sacked by his editor, Baume. No specific reason was ever given, but a number of factors seemed to be at play. Nicholls suspected that Bancks may have influenced the decision as the feud between the two had not abated. Another possible conspirator was Sir Frank Packer as within days of the mysterious sacking he offered Nicholls a place for Finn at The Womens Weekly. The only catch was that he would be paid a quarter of his previous wage. Nicholl's told Packer where to stick it and the media magnate opted for the syndicated "Mandrake the Magician" instead.
Fed up with newspaper proprietors Nicholls teamed up with another unemployed artist Stan Clements to start the first ever locally produced comic book. Fatty Finn's Weekly was launched on 20 May 1934 as a black and white 8 page tabloid with a spot colour cover. "Fatty Finn" naturally made an appearance and Nicholl's also contributed a center spread continuity strip called "Forest of Fear". The rest of the comic featured Australian artists only, something that helped launch the careers of many.
By its ninth issue things were not going so well with the result that Nicholls launched a coupon scheme through which readers could join the "Fatty Finn Club". When this failed to generate subscriptions he reluctantly approached Packer who then took over the publishing and expanded the comic to 16 pages. Unfortunately Packer chose not to invest much in the venture with the result that the extra pages had be padded out with text. When Packer then attempted to include the US syndicated strip "Brick Bradford" Nicholls walked out and the magazine collapsed.
With Fatty Finn's Weekly out for the count Nicholls approached Bancks and offered to make up. He pointed out since he was the better artist and Bancks the better writer that perhaps the two would be better off joining together on "Ginger Meggs" or some other project. Bancks turned him down as he was sure they would never get along and so the rift continued. Left with few options Nicholls went back to the film industry.
In 1943 he briefly returned to newspapers with a series of cartoons for the Communist Party of Australia's Tribune. The single panel cartoons were explicitly pro Soviet and misleadingly celebrated the Red Army's role in the coming "liberation" of Eastern Europe. They also celebrated anti-fascism and took swipes at Menzies, Lang and other conservative politicians. Whether Nicholls was a communist sympathiser or party member is unknown. More likely he got caught up in the general pro Soviet feeling that saw 10 000s of Australians join the CPA and just as quickly depart in horror at its authoritarian character. Whatever the case his work only appeared for a short period.
In 1943 he produced The Phantom Pirate, his first full length comic book in years. 1945 saw him re-enter the world of publishing with the launch of the Fatty Finn Publications line beginning predictably enough with Fatty Finns Comics. The comic book went well and in 1947 he also reprised Middy Malone in the same format. It proved a huge success selling up to 80 000 copies an issue. As with his previous comic books these titles allowed Nicholls to create a space in the industry through which newer and more innovative artists could also find work. Payment of these artists by Nicholl's far exceeded accepted rates in the rest of the industry. That year he also produced his "About Ships" book and was commissioned by the Orient Line to produce a portrait of the Orsova. With his skill for nautical drawing he soon emerged as the master of the pirate genre and was to later produce a variety of strips for papers and as comic books.
Despite initial success Nicholls' old nemesis, syndication, was to prove a problem. Rising print costs coupled with an influx of cheap reprinted US comics threatened the fledgling local industry. Nicholls published an editorial in one issue of Middy Malone attacking the government for "their disregard of the situation" and imploring his readers to protest and write to their MP. Unsurprisingly the protests of children had little weight when put up against multinational publishers and the comic was forced to cut back by 4 pages.
Nicholl's managed to hold out for a while longer and launched a new title Cooee Comics in 1949. Within a year the rising costs and competition from the syndicated strips forced the line to the edge of bankruptcy. Initially Packer was approached for funding, but disagreements over artist pay rates saw this fail. Nicholls was forced to wind up production again. With the death of this and other Australian comics lines the homegrown industry was dealt a blow from which it never recovered.
Nicholls was next offered a job producing "Fatty Finn" for the Sunday Herald. Reportedly this reignited the feud with Bancks, but it is unlikely that it had ever faded. When Bancks died unexpectedly in 1952 Nicholls appeared at his funeral and was noticeably upset, perhaps at the lost chance for a reconciliation. Competition between the "Fatty Finn" and "Ginger Meggs" strips was to continue however as new artists were to carry on with Bancks' character. In 1953 the Sunday Herald was united with the Sunday Sun as part of the overall Sun-Herald merger. The new paper had the largest circulation in Australia, a fact which aided the popularity of "Fatty Finn" no end.
The 1960's saw Nicholls producing cartoons for the NSW Teacher's Federation paper Education. Following his time with the IWW he had been passionately involved in union causes related to artists. He was a founding member of the Black and White Artists Club and an active member of the Australian Journalists Association for 45 years. Education gave him the opportunity to sink his teeth into wider issues and his ten years of incisive cartoons were credited with helping spark a wave of teacher militancy that lasted through to the 1970s.
Despite failing eyesight Nicholls kept producing work up until his death in June 1977 when he suffered an accidental fall from his sun roof in Kings Cross. At the time of his death he had been working on a series of drawings of historical buildings for the NSW Teachers Federation. He had not requested that any one take up creation of the "Fatty Finn" strip and so it disappeared within weeks of his passing. "Ginger Meggs" took over its coveted spot at the Sunday Sun-Herald about a year later giving Bancks the last laugh. A new film and book adaption appeared in 1980 and a series of reprints in newspapers across Australia proved that despite his creator's passing "Fatty Finn" had some kick left in him yet.
---
Sources
Ace Biographical Portraits, Annette Shiell and Ingrid Unger, Monash Uni, 1994.
Cartoonists of Australia, Richard Rae, View Productions, 1983.
Panel by Panel, John Ryan, 1981.
"Syd Nicholls- An Appreciation", Recorder, 1977.
The Inked In Image
Ginger Meggs Website
Direct Action, 1914-1918.
Inkspot, Journal of the Black and White Club, 1989.
Sydney Morning Herald, 1977.
Tribune, 1943.
---
Contact Takver with questions or comments about this web site.

This Page is linked from: http://www.takver.com/history/index.htm
© Takver. All Rights reserved except for nonprofit, union or educational use, please credit source.
Last modified: April 30, 1999