Raised a Radical - The Englarts in Brisbane 1920-1939
- Vince Englart
MY IRISH BIT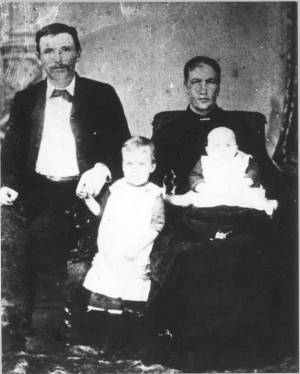 In 1884 a 22 year old Irish woman arrived in Brisbane, the daughter of David and Bridget Bourke from Cashel, Tipperary. She was followed two years later by a man, John Ryan, two years her junior from the same town, Cashel. They were married on 4 February, 1889, at St. Stephen's Cathedral, Brisbane, by Father Fouhy and witnessed by James Ryan and Ellen Bourke (we can only guess James and Ellen were the brother and sister of the groom and bride. The marriage certificate of John and Mary indicated that their fathers' occupations were labourers.

Like the Englart's the Ryan's first three children came in quick secession, Jim (1890), Mary (1892) and Nellie (1893) and put off another child until my mother, Katie, was born seven years later in 1900 at Ekibin, Brisbane. On Katie's birth certificate her father described the family's residence as at "Ekibin near Tannery" and that Katie's birth was attended by Mrs. Day. (My ancestors' births were never attended by doctors but were delivered by midwives). I wonder if Grandfather John Ryan didn't work at the tannery or the quarry at Ekibin.
Katie never dwelt on her past family but whenever she gave passing thoughts it was with sadness. With hindsight, I often feel that there were times when we could have enriched our lives by knowledge of family history that made us what we've become. Granduncle Jim Ryan (brother of John) lived on until 1935 when he died (with Alzheimer's ?), in the care of Kate's sister Mary who married John Murray. As children we frequently visited our mother's Aunt Kate (grandmothers sister, perhaps Ellen?) who lived on until the 1940s. To my knowledge, Aunt Kate Wicks had one son who had children and two daughters (Minnie and Katie) who never married.
As I type these dry facts I cannot but speculate on the tensions that must have existed in my grandparents world. In July and August 1890 a financial crash occurred in Argentina, which had been a centre of world speculation. Banks failed around the world. Australian capitalism was particularly hard hit following the heady days of the gold rushes of the 1850s and the booms of the 1870s and 1880s. The circumstances led to a sharpening of the struggle between labour and capital, the welding together of the foundations of the trade union movement and the germ of the concept of a socialist alternative to capitalism. Meanwhile, capital had indicated that it was prepared to use armed troopers and police as they did against the Queensland shearers in the 1890s.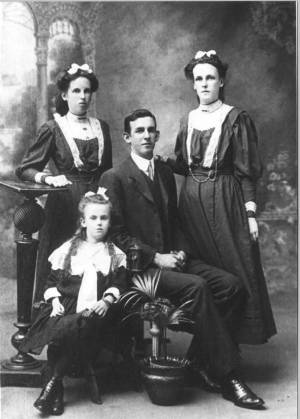 The physical wellbeing of society (or lack of it) is reflected in social debate, in belief systems, in ideology, in matters of faith. Quoting Manning Clarke's A Short History of Australia .. "In general the clergy responded to the depression in the cities with sermons that mocked the destitute by attributing their misfortunes to improvidence, drinking, and gambling."
In retrospect I can only guess on how unhappy my grandparents must have been. In a new land, with irregular work, demanding much of sweat and blood, and with a young family, it would have been hard for a red blooded Irish man not to drown his sorrows in drink, especially in the face of the church that he, and particularly his wife Mary, belonged to which preached the blaming of the man for the ills of society. In these difficult times my grandmother Ryan sought solace in her religious faith and would have regarded it as a great sin to consider contraception. Happily, around New Year, 1900, John Ryan must have convinced wife Mary of his amorous needs, otherwise I wouldn't be here to interpret their story today.
While my mother, Katie, died an atheist - with no belief in God - her sisters, Mary and Nell, kept their faith in God to the very end. As you will come to see that, as my biography unfolds, such matters of my family of origin formed the bases of the belief system that is part of my spiritual inheritance.

Contact Takver with questions or comments about this web site.

This Page is linked from: http://www.takver.com/history/index.htm
© Takver. All Rights reserved except for nonprofit, union or educational use, please credit source.
Last modified: May 5, 2000