Raised a Radical - The Englarts in Brisbane 1920-1939
- Vince Englart
THE GERMAN CONNECTION
In order to fill out the life of my parents I must trace out their origins. My father's parents were born on the Darling Downs. Their parents (my great-grandparents) were born in the early 1830s in the state of Baden in south-west Germany. Grandfather's parents (Willheim Andreas Englart and Barbara Schonlein) married in Lindelbach, 1854, and grandmother's parents (Johann Georg Nuss and Anna Barbara Bischof) married in Urphar, 1856, and sailed for Australia in the 1850's to start their families. The German Consul in Sydney (Mr.Kirchner) was responsible for bringing the settlers to the Darling Downs. Before leaving Germany every prospective settler had to sign a contract that he would work on a station as a shepherd or boundary rider. He would receive £30 to £40 per year and rations. He was told that in two years time he could save enough to buy some land and establish his own home.
Willhelm and Barbara Englart had four sons and a daughter born over their first six years in Australia. Barbara died of diarrhoea at age 63 (1895) and Willhelm died of a stroke at age 65 (1897) without the care of a doctor and was described as an alcoholic. My grandfather, Heinrich, was their second child.
Johann and Anna Nuss had six or seven sons and three daughters. Anna claimed seven sons when she died of peritonitis at age 74 (1907) but Johann claimed only six sons when he died of enteritis at age 79 (1912). (I wonder if my great-grandparents Nuss disputed the parentage of the youngest son, Heinrich). my grandmother, Elisabeth, was their second child.
My grandfather was born Heinrich Englart (Merangan, 18 December, 1856) and my grandmother was born Elisabeth Nuss (Wallan, Roma, 11 January, 1862). When my grandparents were children the site of what is now Toowoomba was described as a swamp.
They were witnesses at the height of the physical destruction of the Aboriginal peoples in country Queensland. To help my research into the times of my ancestors I referred to When was That: Chronology of Australia from 1788, by Anthony Barker. Barker lists many conflicts between Aborigines and whites. For the date September 30, 1884, he quotes "In a pitched battle at Prospector's Creek, 120 km north-west of Cloncurry, Qld, between Kalkadoon tribesmen and a punitive force of police and native police ..., most of the Kalkadoon warriors are wiped out."
Life was tough. Grandfather would shear sheep in the summer and in the winter worked at the Oakey meatworks. Perhaps sometime was spent on the construction of the Brisbane-Toowoomba Railway.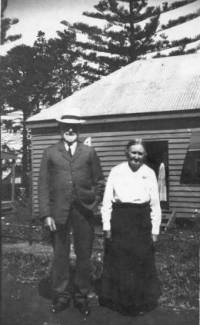 Heinrich and Elisabeth were married on 28 April 1880 at St. Paul and Luke's Lutheran Church, Philip Street, Toowoomba. They immediately started their family with their first child, Johann (John), born in their first year. By the time my father was born (27 December, 1897) he was confronted by nine older siblings and his birth was followed by yet another sister and brother.
I can only imagine the hardships that confronted Ted, aged 14, in 1912. Ted's father was 56 and his mother was 50. His eldest brother, John, was 31 in charge of the daily work on the Englart farm. It seems that an older brother and sister had died. Then followed a string of aunts: Kate (25), Minnie (23), Jane (20) and Millie (19) followed by the next male Georg (18) and another aunt Lizzie (16). Ted's younger sister, Mabel (13) and brother Bill (12) completed the family.
It was a constant round of physical toil, for the girls as much as the boys, from milking in the early morning, feeding the pigs and the poultry, till working out in the fields and orchards in the evening. The children went off to school with breakfast in their hands. Life was relieved by the country dances and the great pleasure that Ted and his brothers and sisters got out of card playing, a life long Englart pleasure.
Ted was angry at the demands made on the younger boys. By the age of 18 Georg was severely affected by stuttering and Ted was particularly upset at the treatment of Georg by his father and older brother John that he decided to wish his mother goodbye and left the Englart farm.

Somewhere deep in my memory of a six year old I recall the sight and smells of the pigs, the cows and poultry of the farm when we attended the golden wedding anniversary of my grandparents in 1930.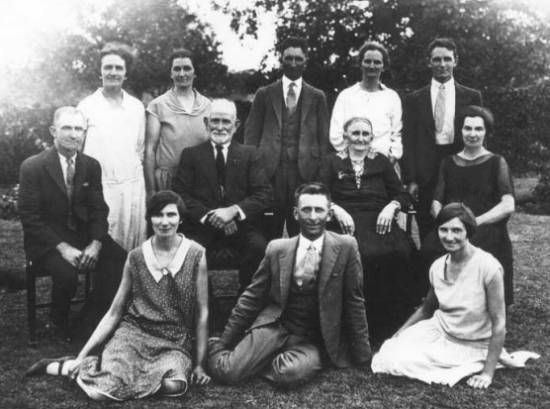 At this point I will close my writing on my grandparents with the observation that Heinrich died in 1936 aged 79 with failed kidneys with uraemia (an excessive amount of urea in the blood) and what was described "as exhaustion". Elisabeth died in 1941 aged 80 with gall stones, chronic osteo-arthritis and what was described as "senility", that is, Alzheimer's syndrome.

Contact Takver with questions or comments about this web site.

This Page is linked from: http://www.takver.com/history/index.htm
© Takver. All Rights reserved except for nonprofit, union or educational use, please credit source.
Last modified: May 5, 2000