Some personal background
I keep one small companion - an elderly Jack Russell by the name of Elsie. Hamish, my Maltese terrier, passed away. He enjoyed the exhilaration and fear of sleeping in my 10 foot high loft with me, and riding in my bike trailer for critical mass. Sybil, my 18 year old cat, now deceased, was a very dear friend and familiar. More than that - she was a working cat who regularly caught mice. She worked for a time at Jura Books and Black Rose Bookshops in Sydney.
I have lived in various communal household situations ranging from a 2 person shared house to a 10 person communal household. Bread and Roses had a collective ownership agreement, and a form of income sharing.
As a dedicated cyclist, I have participated and organised several bike rides, including Rides against Uranium from Sydney to Canberra, and Broken Hill to Roxby Downs. I continue to ride my bicycle, commuting to work and to attend my course at Northern Melbourne Institute of Tafe. I sometimes participate in Critical Mass bike rides on the last Friday each month in Melbourne. I am also a member of Bicycle Victoria, a membership based cycling advocacy organisation affiliated with the Bicycle Federation of Australia.
I used to read a lot of science fiction, but my time committments severely curtail this activity at present. I try to keep up to date with two authors - Ursula Le Guin and Marion Zimmer Bradley.
I have been a member of collectively run bookshops since 1975, including being a founding member of the Jura Books Collective in Sydney in 1977, and the Black Rose Anarchist Bookshop Collective in 1982. In 1992 I was a co-founder with two other people of the Anarres Books Collective, an anarchist mail order and bookstall collective presently active in Melbourne. This activity was handed over to a younger, more active crew in March 2009.
As well as the anarchist movement, I have participated in the movement against uranium mining, and have had some activist involvement with Friends of the Earth and Greenpeace. I have been a contributor to Indymedia since 2000, and have been a features editor with Indymedia global, Melbourne IMC, Sydney IMC, and Climate IMC sites.
I have numerous statues to my draconis friends scattered about the garden. I have a tendency to horde books, music, jewellery, letters, brochures, etc.
All of the above defines what I am, yet like Jekyll and Hyde, I lead a double life. Yes, to be what I am, I must be what I am not. I was meek and mild programmer with a major Australian Corporation until I was made redundant in 2005. I worked with this company for nearly 31 years. Rather than throw myself into a new job, I went back to school for 2 years and gained some qualifications:
Dual Certificate IV in IT (Website Design and Website Administration)
Dual Diploma in IT (Web Development) and Multimedia
See an example of Flash Animation I did for my course in 2007: David Rovics song: The Commons.
I have found the courses at NMIT both practical and challenging, and would recommend a TAFE course for anyone changing career or direction in life.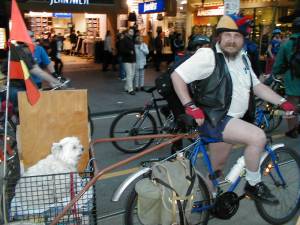 Takver and Hamish at
Melbourne Critical Mass 1999