"
---
William Lane on Anarchism
---
William lane on Anarchism, in 'Working Man's Paradise,' 1892.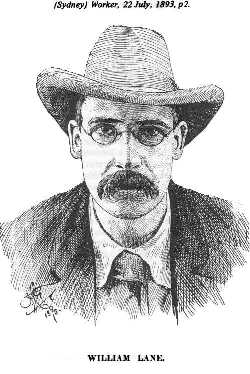 Perhaps the best known of all labor organisers in the period 1890 to 1895, Lane was one of three brothers who came to Australia from England in the 1880's. He quickly established himself as a journalist with an eye for an injustice and the poor. As editor of 'the (Brisbane) Worker' he espoused libertarian communism under the guise of 'mateship' and 'co-operation.' Disillusioned with labor consciousness or driven by personal needs, he left the paper in 1892 after producing a documentary novel 'Working Man's Paradise.' He organised the emigration to Paraguay of hundreds of labor stalwarts from 1893, but 'New Australia' foundered on lack of personal preparation, and on the question of authority, Lane being unprepared to give up his power-base. In New Zealand in the 20th century he edited a conservative newspaper and opposed labor in all industrial struggles.
(Ned, the naive 'hero' of the novel discusses 'the social question' with Geisner, who tells Ned 'Where the Trouble Lies,' contrasting State Socialism to 'anarchical communism' based upon 'voluntaryism and opposed to force whether of governments or otherwise,' Ned asks:)
Ned: "Then Anarchists aren't wicked men?'

Geisner: "The Anarchist ideal is the highest and noblest of all human ideals. I cannot conceive of a good man who does not recognise that, when he once understands it. The Anarchical Communists simply seek that men should live in peace and concord, of their own better nature, without being forced, doing harm to none, and being harmed by none. Of course the blind revolt against oppressive and unjust laws and tyrannical governments has become associated with Anarchy, but those who abuse it simply don't know what they do. Anarchical Communism, that is, men working as mates and sharing with one another of their own free will is the highest conceivable form of Socialism in industry."
'Mates', William Lane, as 'John Miller, (Wagga) 'Hummer', January 16,1892.
". . . Just how this cooperation of the workers is to come about is a matter on which Socialists argue considerably. Those Socialists who are Anarchists want to smash up law and start with voluntary co-operation as a beginning. Those called State Socialists hold that the existing state is developing functions, that is extending its authority, and will ultimately become the sole employer, while every citizen will become an equal working shareholder in the huge firm that will embrace all industry. For myself, I think that voluntary co-operation will show the people at large how to do it, that legislation will then bring about some form or other of state control which will remove the pressure that now makes us hustle one another for a job, and that as we become accustomed to being mates, and our children are born and bred into the same atmosphere, all need for legislation or for state-force of any kind will pass away, and we shall evolve a truly socialistic method of co-operation which we shall uphold without law becuase we shall all love being mates and all hate the very notion of competing with each other as we do now. Just what this final system will be I do not know . . .'
---
Contact Takver with questions or comments about this web site.

Last modified: May 1, 1999


[ Top of Page ] [ Takver's Initiative ] [ Radical Tradition Contents ]