"Trouble Makers" - Anarchism and Syndicalism.
The early years of the Libertarian Movement in Aotearoa / New Zealand
---
Alexander Bikerton, and the Federative Home
---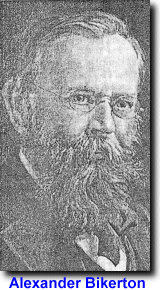 The later half of last century saw some major advances in science and technology. There was a belief that science would solve many of the social problems of humanity, and would sweep away many repressive and superstitious institutions. One person who shared this belief was Alexander Bikerton. He arrived in New Zealand in 1873 to take up his appointment as Professor of Chemistry at Canterbury College, the forerunner of todays university. He immediately began a course of popular lectures which attracted hundreds of people. He was a born actor and an exceptional teacher. Public lectures at that time were regarded as popular entertainment. Bikerton was a pioneer in science education, and champion of original investigations. He regularly demonstrated Nikola Tesla's experiments. Tesla was a pioneer in the development of alternating current when General Electric and Thomas Edison were promoting direct current. He remains a rather obscure scientist, principally because many of his inventions would have destroyed the profitability of many companies that are now multi-nationals. When he died the United States government impounded the entire contents of his safe, only they know what it contained.
Within a short period of time Bikerton became unpopular with the Christchurch establishment, dominated as it was by the Church of England. During the course of conversation the Bishop urged him to study the Bible. Later, when asked what he thought of it, he replied "Really excellent. I have decided to put myself down as a Christian at the next census." "Good heavens!" exclaimed the clergyman, "What religion did you state at the last census?" "Church of England", replied Bikerton. Bikerton also developed a scientific theory which he called partial impact. This he believed explained the birth of stars. However it also directly contradicted the teachings of the Book of Genesis, and of course those of the Bishop. He regarded himself as a state socialist and supporter of the single tax movement. Nevertheless by the late 1880's he had become convinced that genuine communism would be easier to attain than any steps taken towards it. In a letter to the Lyttelton Times he outlines his libertarian communist views.
'For a quarter of a century I have struggled with the many difficulties of the human problem in the various aspects presented by hunger and love; and never for an hour, during all these years, did 1 see a satisfactory solution to its many complexities. Then, studying human evolution from the Darwinian stand-point, 1 saw that the ethics of Christ yielded a scientific solution, and this has satisfied me for nearly a dozen years .... the true mode of life is that described by Christ under the name of the Kingdom of Heaven, a state in which no one lacks anything because no one owns anything ... a state in which there is no law, because love is supreme. And to this state only is man's emotional nature consonant; a condition of rivalry in generosity, instead of competition in greed. Let me at once affirm that I believe progressive taxation (single tax), land nationalisation, and state socialism, could they be obtained, would be incomparably better than our present system. Many champions of these panaceas own them to be but steps towards Christian communism; they think these things attainable, and the higher life not immediately attainable. Close on forty years study of the problem convinces me that the Kingdom of Heaven is easier, far easier to attain to than any of the supposed steps towards it, so I devote most of my efforts to this conviction. But I do not neglect the other view. I have been the means of circulating thousands of socialistic books and periodicals, and are ever ready to do my part in working with socialists, knowing them to be the salt of the earth. '
In 1893 Bikerton became a member of the Christchurch Workingmen's Society and soon afterwards President of the Tailoresses and Presses Union. He was also one of the founders of the Kingsley Club. The Club had a membership of 400 and organised benefit dances concerts and lectures on a weekly basis. In 1898, along with others he established the Federative Home at Wainoni. He had purchased the property some years before. Wainoni was to be an experiment in communal living. By autumn 1899 the Federative Home was well established with about thirty members. All domestic work was done co-operatively and most of the members had outside jobs. However the community did support a few industries such as a fireworks factory. Bikerton was also one of the founders of the Socialist Party. Many socials and picnics were held in support of the party at Wainoni. The Federated home itself covered several acres of garden. At the centre was the main house built from materials recovered from the Christchurch Exhibition of 1882. From contemporary accounts it was very impressive. A report from the Canterbury Times of 1898 recounts.
'As we wheeled into the entrance gate we obtained a good view of the establishment. The entrance hall, reception rooms are in the centre, with the vinery to the right and the fernery and conservatories to the left.. From the roof we look down upon the orchard, garden and terraces. Peaches apricots, and nectarines are under our feet'.
In an interview in the Lyttelton Times in 1902 Bikerton comments.
'A federated home is much simpler, much cheaper, and much more sociable and happy than the separated homes in which we lived formerly. Our domestic duties are discharged on the principle that everybody should do what he or she likes best.... the only thing approaching a regulation is a time table of daily duties. Each family has its own rooms or cottage, but the drawing room is there for all visitors, and the social hall is there for everybody'.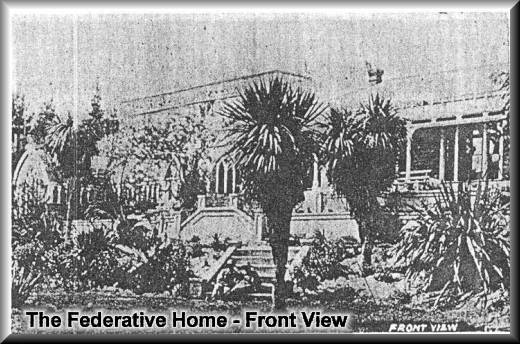 The home boasted a large library, a gymnasium, tennis court and several other social amenities. In all it appears that the members lived an idyllic existence.
In 1900 Bikerton returned briefly to England, there he met Kropotkin several times and Malatesta. He criticised the anarchists for not pursuing, "sound and logical methods" to achieve anarchism. By this stage Kropotkin was not an enthusiastic exponent of experimental colonies. Most had been dismal failures. Bikerton may have renewed his friendship with Paul Robin. Robin had travelled to New Zealand in 1898 arriving in Auckland. We don't know if they met personally but almost certainly exchanged letters. Robin was very influential in libertarian educationalist circles in France. Angus McLaren's book "Sexuality and Social Order" briefly mentions Robin's visit to Aotearoa and his friendship with Bikerton Robin wrote in "Regeneration" (April 1908)
'I saw in the Antipodes ingenious housewives who made for themselves for a derisory price an object having the same efficacy as the best brands of pessaries, ovules and cones.'
Emma Goldman mentions Robin in her autobiography, "Living My Life"
'Who was Paul Robin? My friend informed me that he was one of the great libertarians in the field of education. Out of his own means he had bought a large tract of land on which he established a school for destitute children. Sempuis the place was called. Robin had taken homeless waifs from the street or orphan asylums, the poorest and so-called bad children. "You should see them now!" Victor said; Robin's school is a living example of what can be done in education by an attitude of understanding and love for the child.'
Emma Goldman was in Paris where she attended the Neo-Malthusian Congress. She met Robin and several other delegates. Her friend was Victor Dave an anarchist member of the First International and friend of Bakunin. The congress met in secret and every session was in a different place. We don't know if Bikerton attended this conference. Perhaps he did.
Bikerton returned to New Zealand, but by 1903 the Federative Home began to falter. He estimated that the place would need at least one hundred members to prosper. The numbers rarely rose above thirty. Many of the members would not co-operate in the running of the place and Wainoni became for many a free boarding house. After the home eventually failed Bikerton turned the property into an amusement park. By this stage he had been dismissed from Canterbury College. The amusement park also failed. In 1910 he once again returned to England leaving his family behind. He tried to gain recognition for his scientific theory of partial impact, from the scientific community. No one was interested. He never returned to Aotearoa, and died in England, at the age of 81 in 1928. His last years were spent in virtual poverty, regarded as a crank and eccentric. Bikerton was a great scientist, a person far in advance of his times.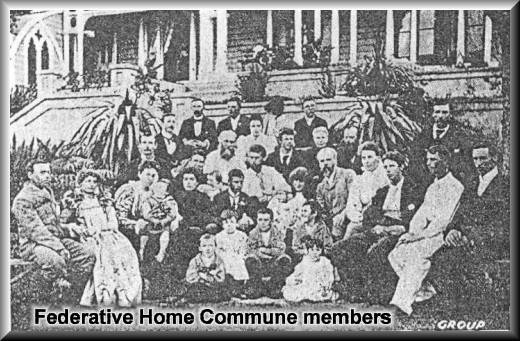 Frank Prebble
---
Contact Takver with questions or comments about this web site.

Last modified: August 16, 1999


[ Top of Page ] [ Takver's Initiative ] [ Radical Tradition Contents ]