"Trouble Makers" - Anarchism and Syndicalism.
The early years of the Libertarian Movement in Aotearoa / New Zealand
---
Nettlau's History of Anarchism
---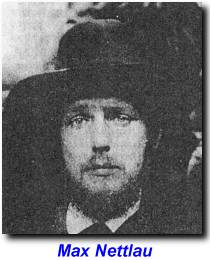 Perhaps the most important sources of information on anarchist and anti-authoritarian history are the works of Max Nettlau (1 865-1944). In particular his Die Geschichte Des Anarchismus (the History of Anarchism). Chapter ten deals with "Anarchist propaganda and Industrial Unionism in Australia and New Zealand". Unfortunately only one page deals with Aotearoa, and this finishes in 1913. Nettlau was an Austrian anarchist active in the movement for over sixty years. He contributed to nearly all the major anarchist publications of his day, and wrote many biographies of leading anarchists, including Bakunin and Malatesta. He accumulated a huge collection of anarchist material which is gathered together in the International Institute of Social History in Amsterdam. This is the translation of the page on New Zealand.
'In New Zealand the Maoris, in no way a primitive people fought long and bravely but were bloodily and almost totally exterminated. Then several decades were let pass and gradually New Zealand emerged again as the model colony, the paradise of work laws and a second England. This suggestion had its effect, perhaps like Canada now has less cold and snow since people have systematically avoided talking of "Our Lady of the Snows". But perhaps such transformations do not occur, and there were many disappointed new immigrants. No libertarian voices were actually audible until 1914. Nevertheless, the constriction of the workers through work- legislation and developing militarism in New Zealand in the years before 1914 generated somewhat greater opposition than in Australia. In 1901 Tom Mann found the miners in the gold mines of Waihi on strike against the laws of the arbitration court, and during a visit five years later he found a new conflict there. Freedom(1), January 1913 (English anarchist paper founded in1886) tells of the terrible incidents of the strike in Waihi in November 1912 as 1,800 workers and their families were driven out of the town, their houses destroyed. "Waihi's Black Week".' According to the Maoriland Worker, 6 December, the Federation of Labour declared the strike ended by notifying, "After participation in the greatest industrial struggle in New Zealand's history, one of the most persistent, peaceful and clearly defined struggles for Industrial Unionism in Australasia, we feel ourselves compelled to come to this resolution in the face of forces being assembled against us, composed of the government with all it's union destroying powers, the tribunal and all its degrading partisanship, indeed every conceivable aspect of capitalism." This example shows what a yoke the workers have laid upon themselves, and how their strength is wasted struggling against it. After this they would have little interest in idealistic socialism. (2)

This real New Zealand is not to be found in apologetic writings (e.g. the Fabian Tract, no 74, "The State and its Functions in New Zealand, " London Dec 1896, but at least in some of the local worker's papers, some of which have reached Freedom since 1911. The Maoriland Worker, official organ of the N.Z. Federation of Labour stood for Industrial Unionism, as did the Social Democrat. Here may belong "Unionism Old and New", the substance of a lecture delivered before the Auckland Trades and Labour Council October 1910: by H. Scott Bennett printed by the Auckland Socialist Party 1910. "Labours Leg Iron" or "Liberal and Labour Party Arbitration Acts in New South Wales" with a brief reference to the N.Z. Arbitration Act by H.E.Holland, Maoriland Worker pamphlet 1912. This concerns the strike at Broken Hill. To combat militarism appeared, "Gaoling the Boys. Will the people of N.Z. stand for it ?". Issued by the Anti-Conscription League Wellington. In Christchurch appeared the "Anti-Militarist", Sept 1911. I only know of this issue. In the last mentioned city the only Australian Ferrer publication of which I know was published.. "Ferrer And His Enemies" by W. W. Collins, published by the N.Z. Rationalist Association 1911. Since that time no news of recognizably libertarian stirrings has reached me.'
Notes. (1) In January 1913 Freedom (London) was able to be obtained at four places: Wellington, Christchurch, Invercargill and Auckland. P. Josephs the seller in Wellington who, for example, reviewed English anarchist literature in The Maoriland Worker, was the only anarchist there in 1911 and could only occasionally distribute Freedom and brochures from London. S Trunk, the militant German anarchist, previously in London, migrated to New Zealand Where his brother in-law Lutjohann lived, and nothing more was heard from him. This was a little before or after 1900. Towards the end of 1898 Paul Robin travelled to New Zealand but came back to Paris after several months. Michael Flurscheim visited New Zealand in 1904 in the course of his journey to investigate the possibilities of establishing a colony in the spirit of his land reform ideas. In those years appeared "A Federated Home, Wainoni" from the Canterbury Times 5 April 1899.
(2)Tom Mann, "Socialism. Does New Zealand stand in need of it?" Wellington 1901, mentioned in his "Memoirs" is unknown to me. The date should read 1902, because he first stepped foot in that country in January of that year.
Frank Prebble
---
Contact Takver with questions or comments about this web site.

Last modified: August 16, 1999


[ Top of Page ] [ Takver's Initiative ] [ Radical Tradition Contents ]