No Gods No Masters
Anarchist and Autonomist Conference
Melbourne April 2001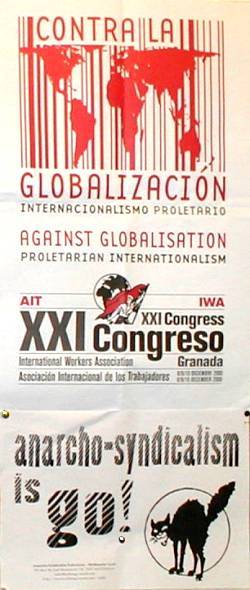 Old Arts Building, University of Melbourne:
28th - 29th April, 2001
In early 2001, some Melbourne members of the Anarcho Syndicalist Federation and other anarchists started planning a conference in the leadup to the celebration of May Day in Melbourne.
The organising collective aimed:
to create a space in which everyone - regardless of race, ethnicity, gender, ability, religion or sexual orientation - feels free to participate equally. To ensure that this is the case, please be aware of the individual values and beliefs of others and respect other people's right to be different and to disagree. Individuals who are continuously disruptive will be asked to leave.
About 250 people attended the conference, with a reasonable number from interstate. Seven rooms were used during the conference: the Red Emma Room (Lecture Theatre A); Kropotkin's Lounge (108); Makhno's Meeting Room (204); Reclus' Refuge (262); Chomper's Chat Room (263); Vigo's Videodrome (239) and 205 is the Kid's Activities and Recreation Room. `Lenin on Trial' will take place in The Mausoleum (aka the Public Lecture Theatre).
Lunch on both days of the conference was being provided for donation by Food Not Bombs and Melbourne University Food Co-operative. Tea and coffee was also available at any time by donation.
On Saturday night there was a benefit gig at the Pink Palace in Northcote featuring poetry and music. On Monday night there was an end-of-conference party at the Retreat Hotel, Sydney Rd., Brunswick.
The NGNM organising collective acknowledged that the conference was taking place on land stolen from the Wurundjeri people.
The following workshops were held to give some idea of the breadth of discussions:
What is the Anarchist Black Cross?
The Anarchist Radio Alliance
Revolution in Action: Growing up Anarchist
A History of the Makhnovist Movement
Is God a Celestial Fascist?!
Squatting as Autonomous Organising
Anarchy and Ecology
Globalisation: An Anarchist Perspective
Land Identity
Facilitation
What is FNB? Food Production and Autonomy
Psyops: Libertarian Approaches to Free Your Mind
Anarchy, Vision and Censorship
A History of Anarchism in Greece
Health, Lifestyle and Anarchism
Writing an Anarchist Zine
Anarcho-Health: Beyond Globalised Health Systems or How a World Without Hospitals Can Keep People Healthier
Recycling, Jobs and the Environment
Complete Emancipation, or Virtual Global Prison?
Why Greens Should Be Anarchist and Anarchism Green
Women and Prisons
Ningala Ningala - Hungry for Land: Aboriginal Embassy in Spain
Anarcha-Feminism (Open forum)
The First International
Towards an Anarchist Federation
If I Cant Fist, Then Its Not My Revolution: Queer Sex from Bakunin to Emma Goldman to Today
Green Anarchy and the US Anarchist Movement
Infoshops (Open forum)
No Gods, No Masters & Anarchism: The Ideological Function of Language
Grassroots Organising in Community Health: How to Take On the Bureaucrats and Win
"The first thing we do" (Anarchy and Law)
Individualism through Collectivity
Grassroots Strategic Planning
Punk and Anarchy (Open forum)
Dont Hate the Media, Be the Media!
Anarcho-syndicalism. What the Hell is that?!
LENIN ON TRIAL
A mock trial of Lenin on the Sunday evening provided the most controversial aspect to the conference. Unfortunately scheduling this event meant there was no final plenary for the conference. The trial failed to attract the hordes of people to defend Lenin, but a good time was had by all.

Condemned by History, Who Dares Defend Him?

Presented by 'NO GODS, NO MASTERS', the Melbourne Anarchist and Autonomist Conference.

The CHARGES:
* Counter-revolution * Tyranny * Treason * Terror *
V.I. Lenin: Revolutionary Genius or Social Frankenstein?
The collapse of the Soviet Union has read the verdict of history on Lenin's megalomaniac adventurism, but the Red Left has yet to learn the lessons. Old slogans reappear in new catchphrases, and old tactics are repainted as the urgent and necessary goals of the moment. Anarchists are putting Lenin on trial, and challenge the Red Left to defend him. Four charges will be heard:
That Lenin was a *counter-revolutionary*, who attacked the revolutionary movement to build his own power.

Prosecutor: Leigh Kendall
Offences: The suppression and massacre of the Kronstadt garrison.

That Lenin was a *terrorist*, who enslaved the people with all the instruments of military and civil repression.

Prosecutor: Rob Dolchek
Offences: The supression of the Maknovschyna, and the wars against autonomous revolutionary collectives throughout Russia.

That Lenin was a *tyrant*, who enslaved the people under state capitalism, deceitfully proclaiming it to be the dawn of Marx's utopia.

Prosecutor: Owen Gager
Offences: Lenin's butchery of Marxist theory of the state and socialist economy.

That Lenin was a *traitor*, who continually undermined his own party and betrayed his own revolutionary colleagues.

Prosecutor: Leigh Riley
Offences: Lenin's subversion of Party democracy, manipulation of the Party program, and selective and opportunistic betrayal of his rivals and of dissidents generally.
---
PROCEDURE:
Each charge will be heard in turn, with a prosecution and a defence each speaking for 12 minutes. All speakers will then be allowed a short response. Questions and contributions will be taken from the floor. The assembly will vote on Lenin's guilt.
We invite the Red Left to nominate speakers for the defence.
Feedback
One of the outstanding patterns is a focus on Melbourne and Sydney! I think it is time we started thinking about conferences outside Sydney and Melbourne occasionally to boost interest in anarchist ideas outside the two cities. How about Adelaide next year..?

From  takver  
Date  Wednesday, May 30, 2001 2:30 pm 
To  april_anarchy@yahoogroups.com 
Subject  [april_anarchy] Re: JT: importance and role of Conferences 



The NGNM conference, for the most part, was a talk fest. There were 
quite a few people there new to anarchism who went to learn more about 
the ideas and practices. So, the conference provided an educative 
function.



For those already involved it provided a chance to informally network 
with comrades that we sometimes don't meet face to face for months or 
years. 



My primary participation was through the Anarres Book stall. We sold a 
lot of introductory texts on anarchism as well as a broad spectrum of 
material from our range. I attended one workshop - the one on 
Infoshops. This workshop primarily discussed the history of anarchist 
bookshops/infoshops in Australia over the last 26 years. (Actually I 
mentioned David Andrades Newsagency, which stocked socialist and 
anarchist tracts, in Brunswick in the 1880s). I have been involved in 
info shops for most of the last 26 years. Even so, I learnt some more 
about what happened in various collectives over this period. It would 
have been good to try and pull together some direction or summation for 
the workshop, but this just didn't happen in the time available. My own 
reason for concentrating  effort in infoshops, is that the libertarian 
movement in Australia needs to do a lot of educative outreach work, and 
making available the ideas through book/info shops is a first step in 
making libertarian ideas and practices easily available. We have come 
leaps and bounds since my initial involvement in 1974.



I also visited the childcare room several times in regards to an infant 
in my care. I thought Fiona did a great job organising the room and 
facilities, and it was good to hear that quite a few people (esp. the 
young men) dropped in and helped out. I went to the N11 one day 
conference last year (to analyse S11 and provide future directions) and 
no childcare was provided, nor any option when registering to provide 
childcare.  So, I think our inclusiveness is bounds ahead of the 
traditional left! The way we organise is as important as the goals we 
seek.



I would have loved to have gone to a final plenary where brief 
summations of all the workshops could have been given, plus some formal 
feedback from conference participants to the organisers and future 
organisers about what worked and what didn't. I can appreciate the 
Lenin on Trial was an event reaching out to the Red Left, but the 
strategy for bringing people to the event didn't really work (Although 
it may have caused some internal debate between younger cadres and 
their party bosses). It was an interesting, bold and creative 
experiment, but I think a final plenary would have been more useful. 



I don't know if anybody prepared written papers or notes for workshops. 
Perhaps, if they are not too private, they can be either posted here or 
loaded to a website and a URL sent to this list? I'd at least like to 
hear brief summations of other workshops on this list.



What I feel came out of the conference is a respect for a diversity of 
anarchist strategies, and a sense of solidarity. Yes, I'm sure there 
were arguments, but in the main people listened and debated and 
discussed.



I think the role of future conferences could be:
* educative to both newcomers and old hands
* informal networking between organised collectives/ anarchist 
organisations.
* develop personal and social change strategies with an emphasis on 
practical examples
* build a sense of community - e.g. where children can be raised in a 
libertarian culture - what Fiona spoke about in a former post.



I am sure there are other functions future conferences could provide.






Banners
| | |
| --- | --- |
| The Anarcho-syndicalist Federation stall on Sunday morning. | |
No Gods No Masters No Nukes Banner.
Painted 1983 for a Palm Sunday Rally for Peace in Sydney.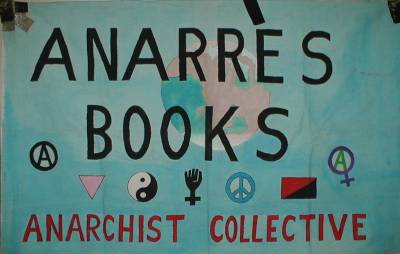 Anarres Books Banner.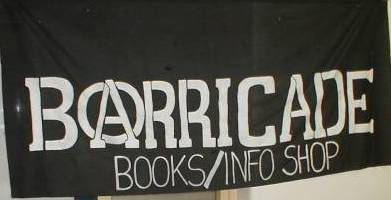 Barricade Books Banner.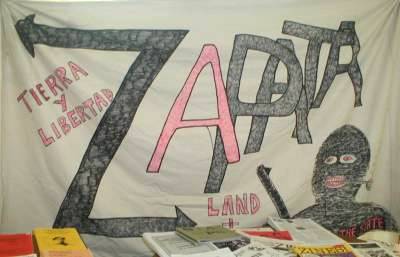 Zapatista Banner.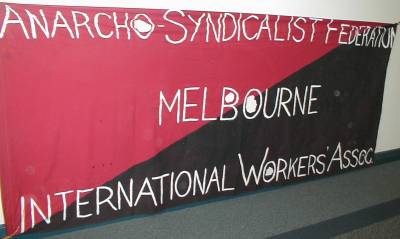 Melbourne Anarcho-syndicalist Banner.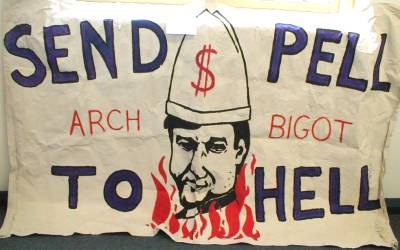 Send Pell to Hell Banner.
A comment on new Catholic Archbishop of Sydney, George Pell.
| | |
| --- | --- |
| McGarbage Banner. | |
Autonomous Web of Liberation Banner
AWOL is the coordination of autonomous affinity groups for s11, May Day and other activities.

Contact Takver with questions or comments about this web site.

This Page is linked from: http://www.takver.com
© Takver. All Rights reserved except for nonprofit, union or educational use, please credit source.
Last modified: may 15, 2003