Election Leaflet for Tony McCristal
Industrial Socialist Labor Party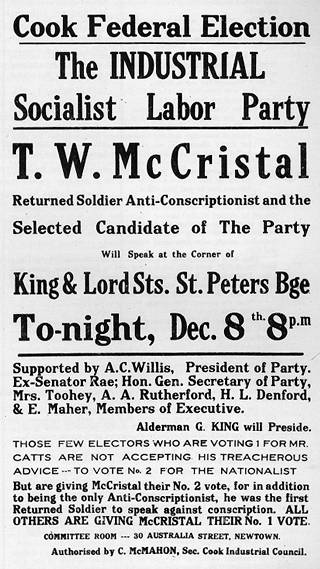 Tony McCristal, Industrial Socialist Labor Party, anti-conscription election leaflet, c.1919
More Information
The conscription crisis during World War I led to a significant degree of discussion within the Labor Party. At the annual conference of the New South Wales Labor Party in 1918, a move to strengthen the position of the New South Wales trade unions in the ALP, was narrowly defeated. Motions to clarify the party's socialisation objectives were also defeated. Many believed that the election result had been rigged by the executive and formed a break away group the Industrial Socialist Labor Party.

Over 200 delegates from local branches, trade unions and one parliamentary member of the Labor Party, P.S. Brookfield (see Photo), attended the first conference of the Party in August 1919. The Party fielded a team at the 1920 Federal Senate election but failed to win a much expected Senate seat. At the State level, P.S. Brookfield was re-elected as the member for Broken Hill as the sole parliamentary representative of the Industrial Socialist Labor Party. Faced with the prospect of spending years in the political wilderness, the Industrial Socialist Labor Party fragmented soon after the 1920 Federal election. Many members drifted back to the Labor Party, others made their way to the emerging Communist Party of Australia.

The question of what role socialisation should play in the Labor Party was brought to the forefront by the establishment of the Industrial Socialist Labor Party. Faced with the possibility of a major split within the Party, the Federal executive of the ALP convened on the Australian Trade Union Congress in Melbourne in June 1921 to find out what trade unionists wanted. The delegates at this conference, the largest gathering of trade unionists ever held in Australia, represented 700,000 trade unionists. The Congress recommended the ALP adopt a socialist objective. The Federal Conference of the ALP that met in Brisbane later that year adopted the motion 22 votes to 10.

What the fledging Industrial Socialist Labor Party had not been able to achieve through the ballot box, it achieved by raising the spectre of a major split in the Labor Party. Once the Federal ALP had adopted a socialist objective, there was no real reason for the continued existence of the Industrial Socialist Labor Party, by the end of 1921 it existed in name only.
Joe Toscano, Anarchist Age Weekly Review, Number 532 3rd February ­ 9th February, 2003
My Union Right or Wrong.
A history of the Ship Painters and Dockers Union 1900-1932
By Issy Wyner
2003




Navigation