Thousands rally in the rain & march against war in Melbourne
21 March 2003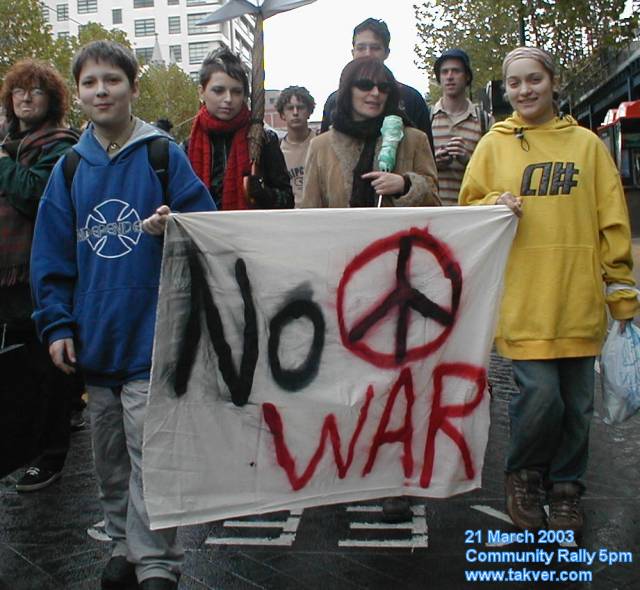 Some of the crowd against the war on Iraq
Thousands of people continue to march against the war on Iraq. Friday afternoon thousands rallied in the rain and showers. Perhaps 20,000 people met at the State Library then marched up to the State Parliament.
I was apprehensive about the numbers that would attend this rally, given the number of rallies happening lately and physical burnout by people who attend them, often at the cost of alternative everyday commitments. I was surprised at the numbers attending this rally, despite the rain and showers.
It is also deceptive the numbers at the start of this rally as many people stayed under cover in the Library portico, against the shops on Swanston Street, and in Melbourne Central during the rain showers. I would have said 8,000 on the lawns. But this number easily doubled and more when the weather fined up a bit and the march started.
I said there were perhaps up to 20,000 people at this rally. The Age on Saturday said 15,000. Once again I think my estimate is reasonably accurate.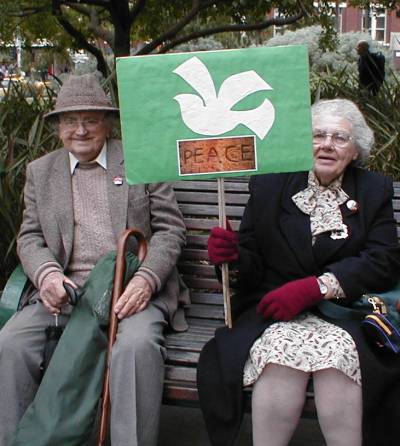 Olders protestors for Peace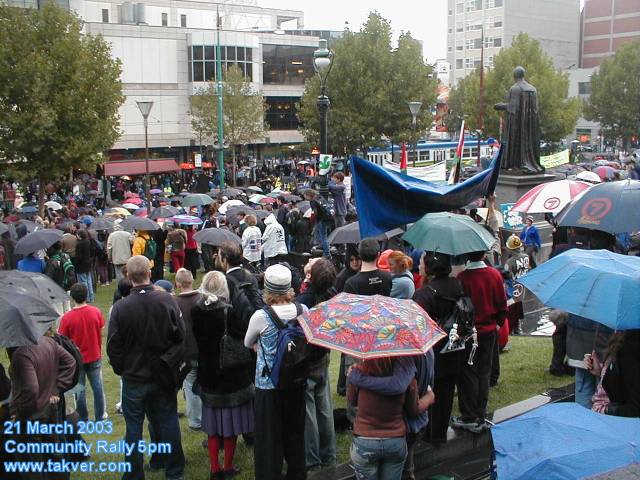 Protesting in the rain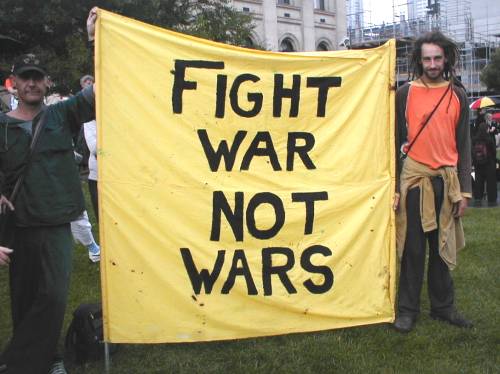 Fight war not wars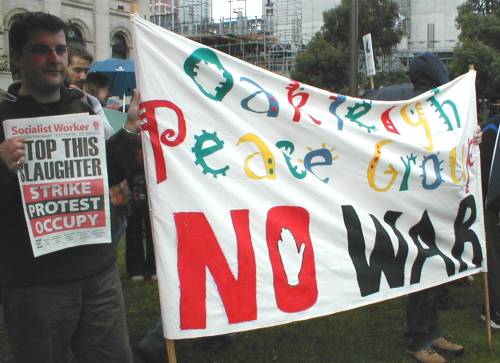 Oakleigh Peace Group Banner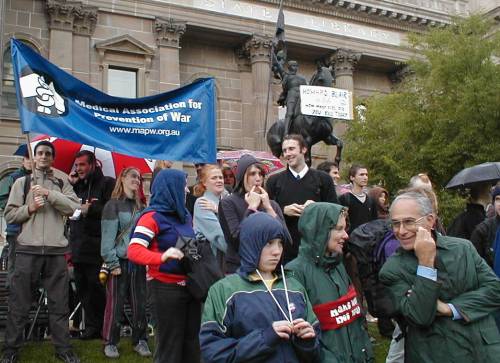 Medical Association for the Prevention of War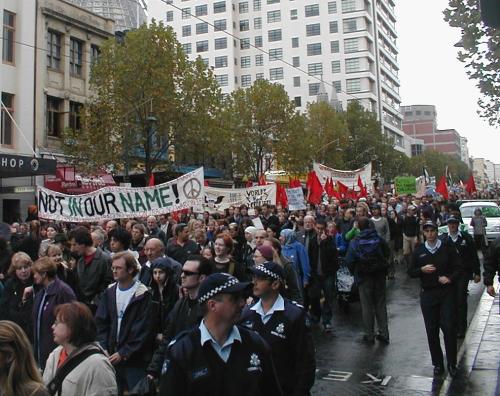 Marching down Swanston St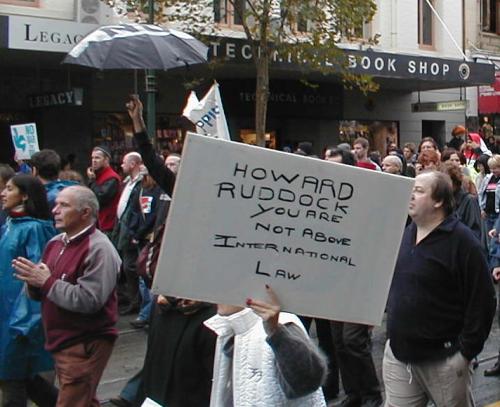 Holding Howard and Ruddock to account
A banner for John Howard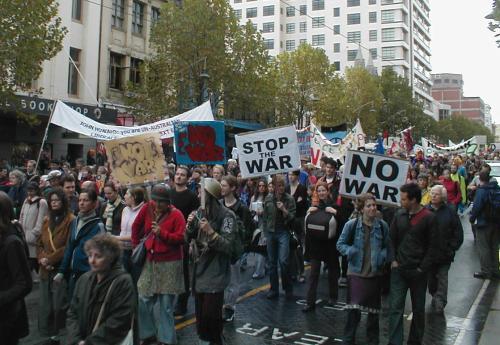 Stop the War - No War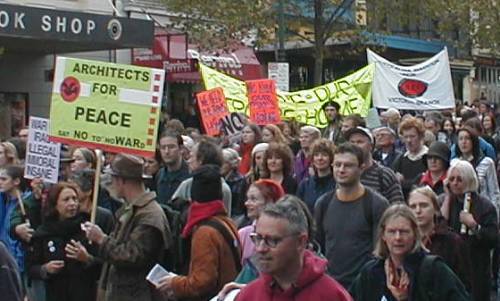 Architects for Peace
The Greens Against War
Quakers marching

Victorian Unionists March Against War
21 March 2003


Up to 10,000 unionists stopped work and marched against the war today in Melbourne. They gathered outside Melbourne Trades Hall before marching down to the corner of Flinders and Swanston Streets.
The Age on Saturday estimated 5,000. The closing rally was held at the bottom of Swanston St. The crowd at this point filled Swanston st back to Collins St. During the speeches many chose to leave and the crowd dwindled down to about half by the time the rally was formally closed.

Unionists gather outside Melbourne Trades Hall
Unionists say no to war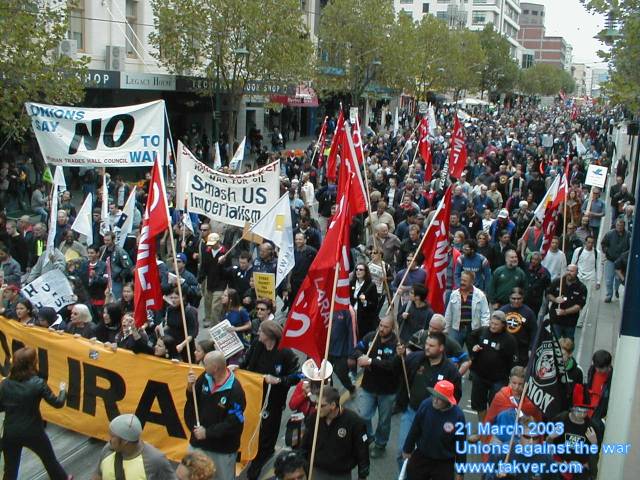 Unionists marching against war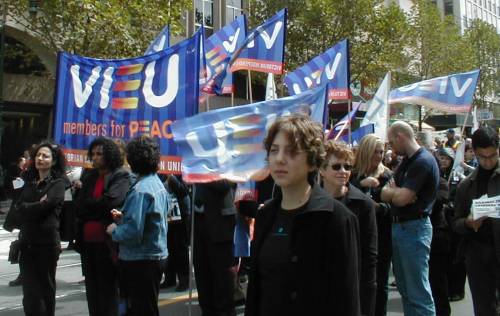 Trade Unionists march for peace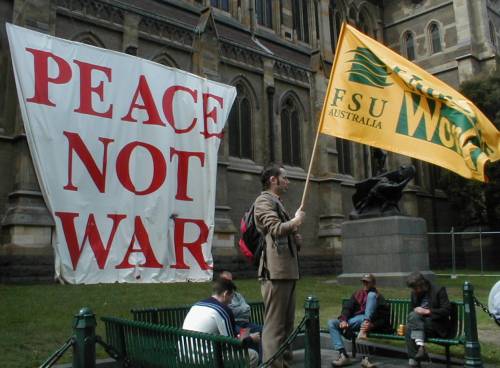 Waving the trade union flag for peace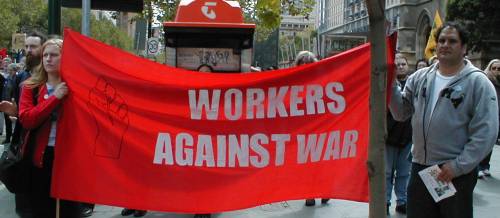 Workers against War banner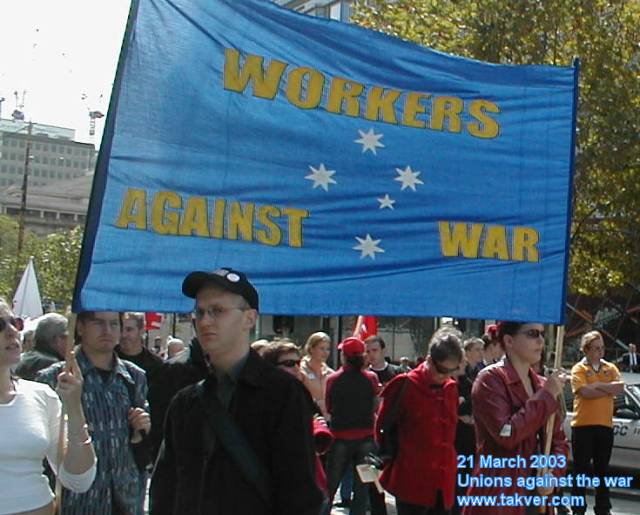 Workers against War banner
Takver's Soapbox

Contact Takver with information for, questions, or comments about this web site.
© Takver. All Rights reserved except for nonprofit, union or educational use, please credit source.
Print Publications seeking to publish any of these photos should contact Takver to obtain a high resolution version and permission to publish.
This Page is: http://www.takver.com/history/melb/peace2003/peace210303.htm