Secret Society & Masonic Paraphenalia
As displayed at the 6th biennial Australian Labour History Conference
Wollongong, 1-4 October 1999.
by Bob James
| | |
| --- | --- |
| Cover photo: Member, Operative Stonemasons Society, Newcastle Eight Hour Day, 1910? NB the Square and Compass, and compare apron at p.18, Andrew Reeves, Another Day, Another Dollar, McCulloch, 1988. | |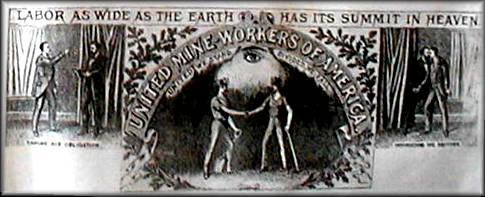 United Mine Workers of America membership certificate, USA, 1907.
Note the Hand movements involved with 'Taking His Obligation' (ie, his oath - above left) and the secrecy and hand-shake necessary in 'Instructing the Brother' (above right)
| | |
| --- | --- |
| GUOOF Council Masters' Certificate. The 'Council Masters' Degree, once known as the Patriarchal Order, is for those who have 'been through the Chairs' of their lodge, including having served a term as 'Past Noble Grand'. | Magnified View of certificate: Female Icon - representing Truth and Justice |
Banner: Independent Order of Rechabites, Moonta, South Australia.
Note the symbols and the Tent' (or lodge) name. Click to view in detail.
| | |
| --- | --- |
| Banner: Manchester Unity Independent Order of Oddfellows, Paterson, New South Wales. This is a view of the work scene and motto. Click to view the whole banner. | |
| | |
| --- | --- |
| Photo: Annie Besant, in regalia of Co-Masonry 33rd Degree | |
Stand-Up Figures, Freemason Regalia.
(Coutesy of Rupert Sheddon, Newcastle)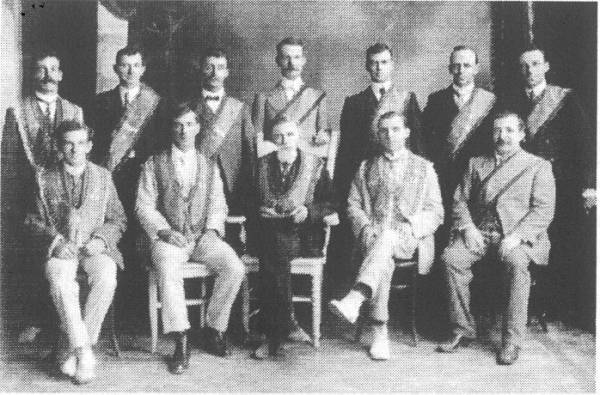 Executive of Federated Engine Drivers and Firemen's Association (FEDFA), Broken Hill, 1913. Note: Sashes or collars are worn by all.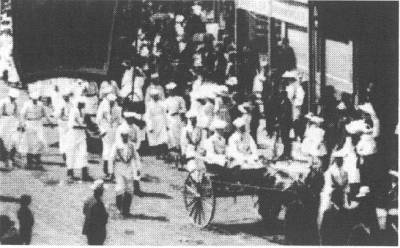 Operative Bakers Society, Newcastle 8 - Hour Day, 1910?, which can be compared with a photo at p.18, Andrew Reeves, Another Day, Another Dollar, McCulloch, 1988.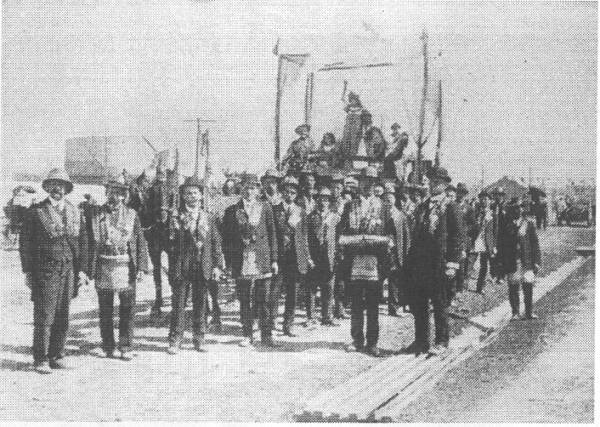 Procession, Grand United Order of Oddfellows, Brisbane ?, 1915 ? Note the Bible on the pillow and the sword.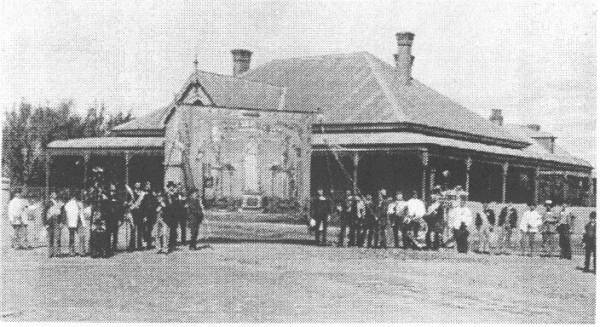 Operative Labourers Union, Newcastle 8-Hour Day, 1912?. Note the decorated 'wands' or staffs, and the 'ancient' horn.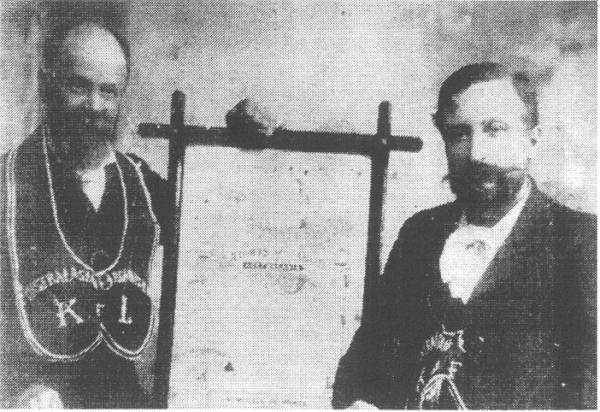 Knights of Labor, Melbourne, 1900's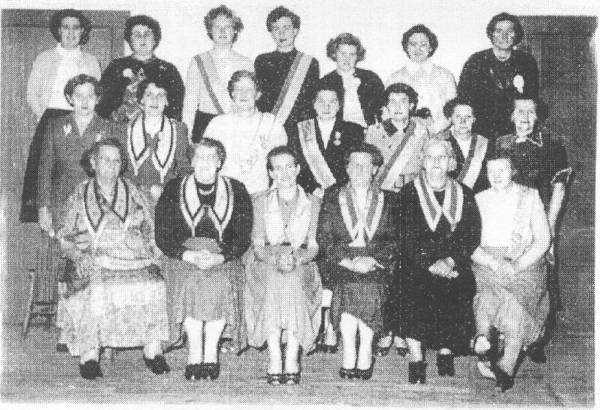 Independant Order of Odd Fellows, Order of Rebekah
---
---
Contact Takver with questions or comments about this web site.

This Page is linked from: http://www.takver.com/history/index.htm
© Takver. All Rights reserved except for nonprofit, union or educational use, please credit source.
Last modified: January 8, 2000