Secret Handshakes and Health Care in Australia
Bob James, Newcastle.
July, 1998.
in celebration of the Sesquicentenary of the
GRAND UNITED ORDER OF ODDFELLOWS.
An introduction to an important, but unfortunately forgotten part of our heritage - the story of how health services spread around Australia through the 'lodge network' and enabled working people to insure themselves against sickness, death and unemployment.
Introduction
This is Part 1 of a booklet researched by Bob James in celebration of the Sesquicentenary of the GRAND UNITED ORDER OF ODDFELLOWS. Part 2 is a personal letter from 'Gran Susannah' to her grandchildren which identifies some of the impact of Friendly Societies on ordinary people in Australia.

This essay provides us with an insight into working peoples self organisation for mutual aid and survival. Through a brief history in Australia of one of the many lodge organisations - Grand United Order of Oddfellows - we can see that Friendly Societies had a major impact within Australia. Green & Cromwell state:

...few historians have devoted any attention to the friendly societies. Even scholars with a specialist interest in social welfare have had only a little to say. This is obviously not because the friendly societies were unimportant. Charitable and trade union organisations representing far fewer people have received considerably more attention. Australian charities never catered for more than a tiny monority, and trade union membership, even at its pre-war peak in 1927, comprised less than 15 per cent of the whole population, only 47 per cent of the workforce. At the turn of the century, when the friendly societies were serving well over 30 per cent of the population, fewer than one worker in ten (2.5 per cent of the total population) was a trade union member.

The history of friendly societies remind us there is an alternative between free market economics and the social welfare state. Through cooperation and organisation working people were able to largely provide for their own welfare. And friendly societies provided this service to a considerable proportion of the population in Australia. The work of the friendly societies came under attack from an increasingly organised medical proffession demanding fee for service from patients (threatening, and then eliminating the practice of employment of lodge doctors), and governments increasingly regulating or providing a centralised health and welfare service.

Friendly societies demonstrate the need for Health Care to be under the control of health users. There needs to be reinvigoration of community control of Health Care and community welfare. Until this happens general medical costs will continue to spiral, with a substantial health bureacracy being maintained by Federal and State Governments, and the financial needs of doctors being placed before the health needs of the community they should serve.

Takver, February 2000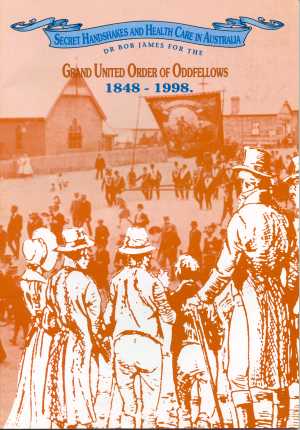 INTRODUCTION
The Grand United Order of Oddfellows in New South Wales is very pleased to present this book (in celebration of service to the people of New South Wales, 1848-1998) to all Secondary Schools and to make it available to other interested people.
The remarkable history of the Friendly Society movement in this country demonstrates the commitment of proud Australians looking to one another's welfare. Regrettably this proud achievement to date has not received the recognition it justly deserves.
Friendly Societies grew to their greatest strength from a social necessity following the 'Industrial Revolution' in England. Groups of ordinary people from tradesmen to labourers and whole communities found it necessary to band together and contribute part of their hard-earned wages to a common fund to cater for the unfortunate circumstances of life such as sickness, injury at work and even death. This mutual aid provided relief to the victims and their families when there was nothing else.
Friendly Society 'Lodges' were formed by their members under various names and were located in cities, towns and even the most isolated areas of Australia. The members of these Lodges were bound together by a code of ethics and as such were recognised individually as people of good character. Friendly Society Lodges were often the focal point of most social activities in their area and they established the foundation of our current welfare and social security system.
I congratulate Dr Bob James on his research into the history of Friendly Societies and for the writing and preparation of this book. I trust it will generate an interest in the minds of those who read it and prompt them into making further enquiries into the fascinating subject of fraternal organisations, their rituals, customs, ideals and principles. I feel that if more people lived by the principles of the Friendly Societies Code our world would be a far better place to live.
As Grand Master of the Grand United Order of Oddfellows in New South Wales in this our sesquicentenary year, I am very pleased to be associated with the publication of Secret Handshakes and Health Care in Australia, and recommend it to all those interested in Australian history.
Allan B. Miller
Grand Master, GUOOF, NSW.
July, 1998.
Some History of Lodges:
The first 'lodges' were on building sites of cathedrals, castles or fortresses, in Britain, France and other parts of Europe. This was hundreds of years before Europeans came to 'the Great South Land'. The lodge was where the master craftsman tested the apprentices and others looking for work. Because these workmen often came from distant countries and spoke different languages, passwords and handshakes were used to 'test' for different grades of skill. Lodge was also where workmen paid into a fund to cover themselves against sickness or accident, or to insure their tools.

After the time of stone cathedrals, the most important period for friendly societies was what's called the Industrial Revolution. It began to change people's lives in the 1700's and is still affecting people today - first it was called the Age of Steam, then the Technological Age and now, it's known as the Information Superhighway.

When the first steam-driven factories were set up men who perhaps had never known a lodge soon saw good reasons to have one. The machines were far more dangerous and accidents were more common. In a pub over a pot of ale a group of friends might notice that a 'mate' was not there. If enquiries found some misfortune had befallen the missing man it would be natural to 'pass around the hat'.

If such a group of friends lasted, chances are that it would form into a lodge and give themselves a name like 'The Friendly Society That Meets at Mr Smith's Half-Moon Tavern on Winchester Hill', or if they were based around an occupation they might call themselves the Brickmakers' Labourers Accident and Provident Society.

When members had to leave one town to find a job in another they would be given an allowance known as 'the tramp'. They would also take a password and secret signs to identify themselves as a brother. Wherever there was a lodge there would be a welcome.

In England, the Grand United Order of Oddfellows was being formed from these sorts of groups around the same time that Captain Arthur Phillip brought the first convicts into Sydney Cove, years before either Edward Joseph Moore or Beatrice Allworth, his first wife, were born.
What is 'the Brotherhood'?
The stranger brought Edward Joseph Moore to a lodge called 'Travellers' Home'. It was the first opened in Australia by the Grand United Order of Oddfellows, a friendly society. That means its members paid regular amounts while they were working and that this money was kept safe for them by their lodge. If they fell ill, or lost their job they were able to get money back from the lodge to keep them going. If they were the breadwinner, they would be able to get money to pay for family illness.
Some lodges were independent but most were part of a larger organisation called an 'Order', such as 'The Grand United Order of Oddfellows'. Each lodge in an 'Order' was stronger than it would be if it was by itself, just like a bundle of sticks tied together. Each member felt more secure knowing he was in a 'brotherhood' that had thousands and thousands of members around the world.
When he first went on board in Portsmouth Edward Moore was 'good on the books', that is, he was up to date with his contributions. He was also carrying a clearance certificate and a password from his lodge in York. These were like a passport, not for the Government Customs, but for the 'brothers' in the GUOOF lodge in New South Wales. They had to see the clearance and experience his handshake before they would accept him.
The stranger on the wharf tested him and when he wore his regalia (see illustration) for the first time in Sydney, and produced his 'passport' he was made as welcome as he would have if he had been at 'home' in York.
There were at least six different 'Orders' of Friendly Societies established in the colony when he arrived and at least twenty separate lodges. Other Orders in Sydney in 1846 were 'the Ancient Order of Foresters' and the 'Australasian Holy Catholic Guild'.
The 'Orders' we know most about are the ones that grew strong and prospered. There were others which do not seem to have grown such as the Chartered Free Gardeners, and the Loyal Order of the Knights of Manchester.
This book concentrates on one family and just one of these Orders of friendly society, the Grand United Order of Oddfellows. Among the weakest when it began in Australia, it survived and grew into one of the strongest. Its history, just like its name, is extraordinary.
Grand United's First Australian Lodge:
In those days record-keeping was not as easy or so important as it is today and for a long time it's been thought that the first Australian lodge of the Grand United Order of Oddfellows was set up in October, 1848. But historians, following clues in the same way that detectives do, have discovered signs of an earlier beginning.
It seems, now, that in May, 1846, three men gathered at the Star Inn in George Street, right next door to David Jones first little shop. They probably had been discussing the matter for some time. Now, they formally pledged themselves to a lodge which was to be called Travellers' Home Branch, No 731.
This number means that the Dispensation (or Certificate) which James Reid brought with him to Sydney in 1844 was the 731st issued by 'Head Office' in Leeds, England. That's how many Grand United lodges there were already.
We know almost nothing about these men but we do know that James Reid was a battle-scarred veteran of the wars with Napoleon. He had been slashed with a sabre right across the face and might have died except for a metal plate which was put into his head. This must have been one of the first operations of this kind in the world.
The certificate allowed the lodge to begin its work. Payments were collected by the man elected to be treasurer and carefully noted down in the book against the member's name. This was extremely important.
Although it sounds as though lodge was just for men, Grand United was really acting on behalf of families. The lodge was the front line against hurt and poverty and it brought a lot of useful 'survival' information into one place. When the lodge met, the names of anyone sick was brought forward and their situation discussed. If they were eligible for benefits payment was arranged. If a member had died, a funeral payment was made to the next of kin. Because of all this talk of sickness, accidents and death, lodge members were the first to know of a doctor in the area. If there wasn't one, the lodge would advertise and interview doctors prepared to accept what the lodge could pay. He could even become an honorary 'brother' with his own regalia.
In time, lodge doctors might attend to virtually the whole of the local community. The Orders spread around Australia, and so we can say it was the 'brothers' who were largely responsible for bringing medicines, hospitals, and the equipment and services associated with health-care to virtually every part of the colony.
The importance of friendly societies as 'the voice of ordinary people' was recognised at public events last century. They walked behind the coffin at the 1873 funeral of 'the greatest Australian' William Charles Wentworth, and were in the official party when the first railway passengers went from Parramatta to Windsor, for example. Yet today, almost no-one knows anything about this wonderful and enterprising history.
For the Good of the Team:
The idea behind lodges is pretty simple. It's called 'mutual aid'. Everyone contributes when he can and is helped by everyone else when he needs help. But because real people are involved, things can go wrong. The money, for example, could 'go missing'.
Back in the 1840's the Grand United Oddfellows realised that they had to 'get real', as we would say today. There were Rules of Behaviour but they were not always being enforced fairly. Drinking, swearing, smoking, betting and political or religious arguments were supposed to be prohibited from lodge 'business'. Conflict over any of these could break up a lodge and put 'the brothers' back on their own again with nothing to show for the payments they had already made.
Then there were the elections for office holders that had to be run properly. Sensible office holders were needed because someone had to take responsibility for organising the booking of a room, someone else to be 'sick-visitor' (to see the sick 'mate' really was sick) and someone else to keep a record of meetings.
All lodge meetings were presided over by office-holders known as the 'Noble Grand'. An Inside and an Outside Tyler or Guardian watched the door to ensure only 'brothers' passed through into the meeting. Anyone breaking the rules inside could be fined, removed or suspended altogether. The Tylers were just like the constables being brought in to patrol Sydney's streets, or the inspectors who were being sent around factories to see that under-age children weren't being employed and that the machines were made safer.
And just like a football team or a basketball team, lodge members had uniforms with their position in the team clearly marked, if you knew where to look and what to look for. The uniforms, known as regalia, varied a lot from one Order to another. The basic piece was the collar and some also used an apron. These were based on what was worn by stonemasons in past times. Then, the aprons were made of leather and had pouches for tools. Long sashes, cloaks and hats were also worn at times.
Each uniform, especially the collar was made in a special shape and in special colours so that you could tell one 'team', one Order, from another. It would have been difficult at first for the pioneers of Grand United to wear the correct regalia because they had very little money to get them made or to buy them from London. The Rules showed which colour - black, red, blue or green - was to be worn by which Officer - Grand Secretary or Grand Treasurer and so on. But no doubt they followed the proper initiation ceremonies when their numbers had built up.
Some Grand United Organisation:
Brother Reid is believed to have been Grand Master for the first 5 years of the life of the Sydney District. This was established in 1848 when other lodges beside Travellers' Home had been opened. Grand United managed in a few years to form other lodges in Melbourne, Bathurst, Ipswich, Maitland, Newcastle, and in Braidwood and to establish District organisations in those areas.
Travel was very slow and hazardous back then, one Secretary telling this story:
At 6 o'clock I called at the house of Brother ..., where I found him ready with several other members. The weather was not very promising..Just as we left the house the thunder began to growl and lightning flashed. But we went on our way. After we had covered about four miles, we found some old rotten tree on the track. This we removed all being drenched in the process. A mile farther on we halted, then made our way [ie walked] down a narrow track a few hundred yards to a house. Here we found Brother ... with three new members 'to be made.' Some of these men had walked or ridden as many as ten miles.

We all bundled in the buggy, and did not stop for another five miles. This time we did not have far to walk. Four more were added to the buggy's load, two of them candidates. Arriving at the lodge room, we had a cordial welcome, and soon some of the brethren had a blazing fire going to dry our clothes. That night, I am pleased to say, Worthy Chairman, 16 new members went through.
The lodge-building went on because Grand United was needed.
Delegates from each lodge in a district came together regularly to plan further expansion and to iron out difficulties that individual members had. Each year, too, delegates from each district would come together and elect a State-wide Committee of Management to examine the Rules to see if they needed to be changed. The records show some quite spectacular disagreements.
Stories of how a Mr George Brown stopped a fight in a Braidwood lodge meeting by waving a silver shooter in the air have been told over and over again. Braidwood District was expelled by the Committee of Management some years later because the lodges there disagreed with a decision made in Sydney. By that time Mr Brown had moved to Sydney where he eventually became Mayor of Ashfield. At his funeral in 1923 he was described as the Father of Grand United because of the 46 years he had been Treasurer of the Sydney District and involved in the many crises that had come up over the years.
A lot of that work to keep Grand United Order of Oddfellows alive and well seems very dull when we read about it now, but the effort has been extremely important. The Order's success has been due to the quiet efforts of many hundreds of people like George Brown, Joseph Wagdon and James Reid all over New South Wales.
Dealing With Disasters:
Any time 'the brothers' were unable to make their regular payments to the lodge, the lodge itself was in danger. This was because it had to have enough money coming in to pay out the entitlements to sick members or funeral benefits to widows and orphans.
So, everytime there was a new gold rush or jobs were scarce in a certain area and men had to move to find work, lodges often found they could not pay the full amount the member was entitled to, or the lodge had to fold altogether. It might start up again and go through a very healthy period, and then something else might happen such as a disaster like a war or the Bulli Mine explosion.
Mines were such dangerous places, especially back then. Just as one example - the Bulli explosion in 1887 killed 81 miners, including 16 Oddfellows, most of them in Grand United. One Juvenile lodge member killed was only 14.
Grand United officers helped with the funeral arrangements and immediately paid the families the benefits due to them under the Funeral Fund. This at least eased some of the burden for widows and children whose whole lives had been changed in an instant.
Towards the end of the 19th century, the Registrar of Societies who was the government man in charge of checking on lodges realised that there was at least one disaster for which no 'brothers' seemed to be ready.
That was the fact that all members eventually get older and sicker and work less if at all. Unless younger people keep coming in, lodges would be paying out more benefits than they were able to receive in contributions and they would go broke.
In response, women were encouraged to join and juvenile lodges were begun to try to keep new, young and healthy members coming through. These lodges were also a good way of teaching young people about the value of saving for the future.
The Registrar also pointed out that none of the contributions were high enough anyway, especially for members who joined later in life. The solution brought forward to deal with this was a system of graduated payments, which meant that the older you were when you joined, the higher payments you had to make to receive the same benefits. This was because older members would be contributing for a shorter period and likely to need medical treatment more often than younger ones.
There was also the question of whether workers in more dangerous occupations like mining should pay higher contributions to cover the fact that they got more in benefits over time than other groups. After years of debate graduated scales were introduced by Grand United in 1915, but miners' levels of sickness and mortality were still being argued over in the 1930's when the introduction of a National Health Scheme changed everything.
Getting New Members:
Right from the beginning Grand United had not been as keen as some other Orders to parade. In Sydney in the 1840's the Australian Supreme Grand Lodge and Manchester Unity Order of Oddfellows presented themselves to the crowded streets as often as possible. In their regalia, they carried as many as five or six banners, big and small and the wands and symbols of office that many benefit societies used.
These were like army recruiting marches but Grand United seems to have quietly plugged away without a lot of noise and celebration and become successful anyway. Not that they didn't parade ever. But the members wanted to make sure that their contributions weren't wasted.
Then they found that in the 1890's many trade societies were being formed and that it was even harder to attract members. It seemed then that parades might be the best way of making themselves known. Processions were becoming more popular anyway as Eight Hour Day marches spread and Australia became one Federated Nation.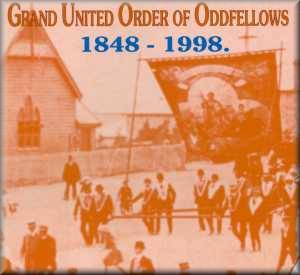 Inside Grand United a great debate began with some members saying that it was the only Order that did not have a special day of its own or a special banner of its own.
Other brothers got quite angry and insisted that demonstrations were folly and that banners were expensive and useless toys. They did not even want to see money spent on special regalia for funerals such as the Freemasons had had for some time.
It's interesting that Miners' Home Lodge at Wallsend in the Hunter District, the largest lodge in the colony, and perhaps in the world at this time, with over 500 members, had no banner and did not like processions. The most important man at Wallsend was Mr Francis Craig, a miner and Grand United veteran. He died the same year, 1893, that Sydney District Council determined to buy its first banner and to hold what was thought to be the Order's first demonstration on its own Day.
There were other Grand United banners before this time, eg, in Newcastle in 1859 and Bulli in 1888, but they may have been home-made versions for particular lodges and not 'official'.
EJ Moore came to see that there was some value in having parades but he knew many brothers who were totally opposed to such 'flim-flam' as they called it. One was a farm worker who had become a rich grazier by hard work. He still went to lodge regularly and his sons who were also in the lodge built the first Oddfellows Hall in the district. They got the contracts to build the courthouse, the railway station and the bridge over the local river, too.
Then the father was killed when his horse shied at a bolt of lightning. His funeral was a very big affair and the Grand United lodges from all around turned out with wands and regalia. The benefits were paid over to the family but from then on, not one of the sons ever attended lodge again.
Hospitals and Ambulances:
Right round the country the members of lodges were most concerned about the lack of decent hospital facilities. Towards the end of last century, especially, the friendly societies started processions called Hospital Sundays to raise funds for basic furniture and equipment which was then bought through committees of lodge members and local business people.
As one example, the first big Hospital Sunday in the Hunter was in 1891. Thirteen different Orders were involved and only friendly societies took part. The weather was wet and as the newspaper reported - 'the bearers of only four banners of moderate size considered it safe to brave the stormy elements.' The others were carried but kept rolled up.
On hospital opening day or when the first ambulance trolleys were finished or the first matron appointed there would often be another procession through the settlement. Speeches would follow and then there would be sports for everyone.
There was a similar process for other community facilities. In Bulli in 1885 the Grand United lodge 'Pride of the Illawara', the youngest in the district, organised the building of a Community Hall at a cost of between £800 and £900.
One year after the catastrophic explosion which killed 81 miners in 1887, arrangements for the unveiling of a Bulli Disaster Monument fell through at the last moment due, it seems, to Government intransigence over details. So, on the day:
the miners of the locality decided to hold a public demonstration instead...About 300 of the miners of Bulli, North Bulli and Coalcliff mustered at Robbinsville and marched in procession order from there to the Oddfellows Hall in Bulli...After having arrived at the hall, the procession was augmented by a considerable number of members of friendly societies, who, headed by the Grand Banner of the Oddfellows Lodge deeply draped with mourning, followed the miners in procession order to Bulli Park.
At this 'unofficial' demonstration one speaker recalled that 16 of those killed were GUOOF members and that the lodge had paid £300 in funeral benefits.
Six years later, in May 1893, Sir Frederick and Lady Darley turned up as requested by a Committee to open the Bulli Cottage Hospital. This procession, too, featured miners, Grand United members and dignitaries.
During the First World War, processions to raise funds for ambulance services and hospital wards were quite easily turned into patriotic days for the Anzac troops and their allies especially when casualties were mounting and recruitment had declined. Grand United was again prominent.
War, Drugs and the Commonwealth Government:
Friendly societies have always been concerned to make sure that the pills and medicines being supplied to their members were of the highest possible quality and that they were as cheap as they could be. So, it was logical for friendly societies to get together and organise their own pharmacies and dispensaries.
When the first United Friendly Societies Pharmacy opened in Sydney in 1887, the President of the Board was Mr George Bretnall of Grand United. Later pharmacies were opened at Redfern, Paddington, Mascot and Waverly and in various parts of NSW. Glebe opened up in 1903.
These chemists kept costs down for their members and other, private chemists didn't like this competition. Doctors, too, through their trade union the Medical Association, eventually wanted more control of their working conditions and over a long period gradually gained the upper hand. By the 1920's they were refusing to be employed by the lodges and were telling the lodges what they were prepared to accept. This usually meant insisting on fee-for-service arrangements with individual patients and by-passing the lodge altogether. This eventually killed the long-standing tradition of a lodge doctor.
Depressions, strikes and natural disasters like floods have been other difficulties hard to bear but wars have been the most difficult of crises for friendly societies to overcome. They interrupt the flow of contributions without breaking the membership qualification of the members. Lodges have been expected to keep brothers and sisters 'good on the books' while they were fighting for their country and this forces the Order to pay the contributions themselves out of reserves.
In times of war, there is also a far greater need for death and injury benefits. This paying out more than you're getting in continues long after the conflict has ended. The Orders found themselves having to add to their range of services to cover the long-term care of the maimed and prematurely aged in retirement villages and special homes.
After the 1914-18 War, the challenges involved were cheerfully accepted by Grand United although they had lost a lot of members. This was the time, too, that the Commonwealth Government recognised that the total old-age, sickness and accident task was beyond all the benefit societies and moved to bring in Australia-wide pensions, child endowments and a national health scheme.
Grand United made another special effort after the Second World War as part of its celebration of its first 100 years. Its Centenary Village at Toongabbie was opened in 1948 and has been extended and improved many times since.
Brave New World?
Once the Federal Government saw itself as the custodian of health-care in Australia, the stage was set for constant revision and a multiplication of bureaucratic controls. Individual Orders came under enormous pressure. Grand United is one of the few that has thrived on the challenge, today being one of the strongest societies financially and offering one of the broadest ranges of products and services.
Building and savings and loan societies have become part of Grand United and new schedules extended to include assistance with spectacles, dental bills and hearing aids, and with diagnostic, pathological, cardiographical and radiological areas of treatment. Supporters of the new arrangements believe that the greater flexibility has enabled individuals to choose their own doctor and to organise treatment more suited to their specific needs.
Other initiatives designed to publicise Grand United and to reach an audience which has no experience of lodge life includes holiday flats for members' at a concessional rate; the sponsoring of Bowling Clubs; annual scholarships for use at high Schools or universities; and a Family Welfare Bureau.
How far Grand United has moved from its original, simple idea of mutual aid and its function of developing and consolidating democratic attitudes and practices is a matter of discussion. Some argue that Grand United has been forced from its original path by the actions of the doctors and chemists and by the fact that the population is much wealthier than it used to be. The much higher level of scientific skill with which accidents and sickness are dealt with today has also changed the way the population understands health-care.
Other people say that it's because the churches are no longer as important as they once were that the spiritual and social values of friendly societies are not being renewed.
Whatever the main causes, it is clear that to be a member of Grand United no longer requires a person to be initiated as a 'brother', learn secret handshakes and wear specially coloured regalia.
Indeed, any link with the local lodge and its ritual and social life has become more and more difficult to maintain. In the 1950's, there was a massive explosion of administrative work required by lodge secretaries, a burden since removed by new methods of billing members set up and run by Head Office. No longer was the voluntary, spare-time work of local lodge officers needed and no longer was there any need for members to attend lodge to pay contributions.
However, people who understand the significance of the secret handshakes and all that goes with it, recall that side of Grand United has been written off many times in the past but has persisted. For them, to see it strengthened and renewed is just one more challenge.
The 1990's: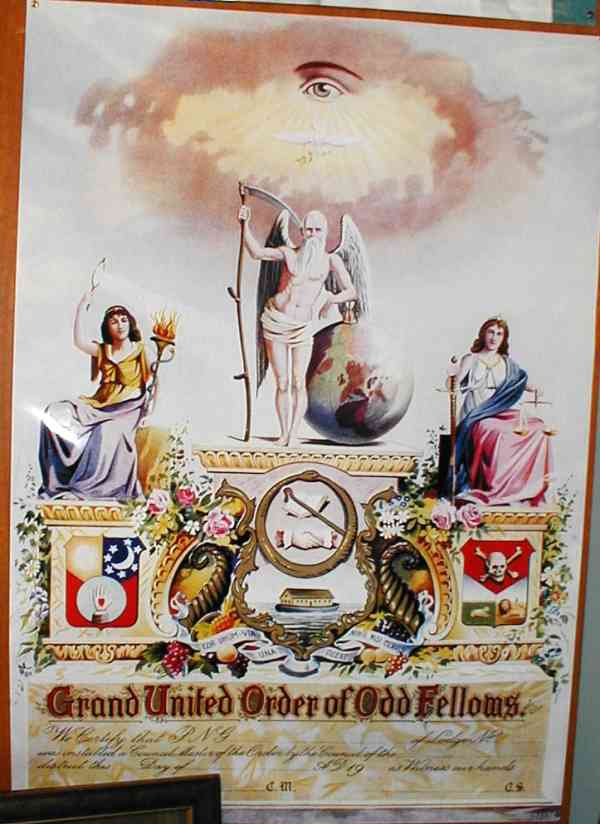 Since 1984 the role of Grand Secretary has changed from being one of active participation in the commercial operations of the Society, as Chief Executive Officer, to that of an administrator of fraternal activities. The current Grand Secretary is Warren French, PGM [Past Grand Master, conferred 1986].
In 1912, the Committee of Management comprised the Grand Officers, that is, the Grand Master, Grand Secretary, three Grand Trustees and six Grand Directors. This Committee, as the Executive Officers, made all important decisions. Prior to each Committee of Management meeting, internal audits were conducted by 'fiscal reporting committees' who would inspect and comprehensively report on cheque warrants and accounts for the period since the last meeting.
The 1989 Friendly Societies Act required Societies to report each quarter on their accounts and their funds to a State Supervisory Authority, formerly known as the Registrar of Friendly Societies. This Act incorporated Friendly Societies requiring Directors to be more accountable for the overall performance of 'their' funds.
In September 1997, yet another Act brought Societies into the Financial Institutions Scheme, placing their Directors and their management under more onerous requirements that adequate levels of reserves were held on all funds. This national legislation meant Societies had to follow prudential standards set by the Australian Financial Institutions Commission, something they had never before experienced. A Society's assets now had to be kept separate and each benefit fund had to have its own bank account - a retrograde requirement, undoubtedly increasing each Society's expenses. Other provisions of the 1997 Act allowed proxy voting at Annual General Meetings and facilitated the 'de-mutualising' of a Society.
Wanting to ensure all financial institutions met the same standards and regulations, the Federal Government in 1996 commissioned an enquiry into the Financial Institutions Scheme. This 'Wallis Enquiry' completed its work in mid-1997 and its recommendations were adopted later that year.
The implementation of these 'recommendations' will once again see Friendly Societies subject to radical changes with even more of an accent on financial services rather than the welfare, fraternal and benevolent activities which made Friendly Societies unique.
The historical elements of Friendly Societies in Australia are under their greatest threat since the first provision of health and welfare benefits by government agencies. It is important to give due recognition to Friendly Societies for the role they have played in forging this great nation but it is even more important that the fraternal and benevolent structure of the Grand United Order of Oddfellows be managed to ensure that its past be recorded with pride and that its future be assured with dignity and purpose.
---
Related Information:
Part Two - A personal letter from 'Gran Susannah' to her grandchildren.

David Green & Lawrence Cromwell, Mutual Aid or Welfare State. Australia's Friendly Societies, published by George Allen & Unwin, 1984, ISBN 0 86861 664 8

The History of The Grand United Order of Oddfellows As told through articles from the official magazine of The Grand United Order of Oddfellows written by Bro. E.W. "Bob" Lindop PGM/PGT
---
Contact Takver with questions or comments about this web site.

This Page is linked from: http://www.takver.com/history/index.htm
© Takver. All Rights reserved except for nonprofit, union or educational use, please credit source.
Last modified: February 14, 2000