Raised a Radical - The Englarts in Brisbane 1920-1939
- Vince Englart
SWIMMING
As children we all learnt to swim, not in a fancy, clean, hygienic, chlorinated pool with tiled walls, but in the local billabong, especially in Giffin's paddock. The murky water, with slippery mud banks enjoyed a variety of wild life - "lobbies", eels, tortoise, guppies (small fish) and leeches.
Occasionally a snake would hunt for prey close to the water, even swimming for prey unless we disturbed them. I must say that, while there were plenty of snakes around in our childhood, I established an early aversion to the reptiles.
The surrounding paddocks supported a variety of domestic animals, including horses and cattle. Hence the water would have been alive with micro-organisms, including pathogens. In later childhood we used to travel much further afield in search of bigger (and dirtier?) waterholes. One of our favourite spots at the foot of Whites Hill, now built over, was christened "Winnipeg". In my mature years I would have absolutely forbidden my children to swim in such circumstances.
Inevitably we were destined to get to get infections as a result of our swimming in dirty water. More than once I would travel to the Mater Hospital to have my ears syringed. We were too poor to go to local doctors. A couple of doctors had refused to attend our family for non-payment of accounts. They put us in the hands of the debt collectors - so we relied on the attention we got from the public hospital system, 'firstly, the Mater, because it was Catholic and it was closer to home.
It was a great change when we transferred from St. James convent school to Cooparoo State School. It was one of the very, very few schools, private or state, with its own swimming pool in those years. Our first experience of hygienic, chlorinated water with no little nasties - a joy for us and one less worry for our parents. There were two swimming periods a week - one day mixed bathing for the grade and one day single sex (say, boys) for all grades. (I'll have a lot more to say about this school)
When I approached my teens Kev and I (and Betty?, Leo?, Imelda?) would walk from Camp Hill to the public swimming 'baths' at Mowbray Park. The so-named baths was a fenced off shallow area of the Brisbane River as a protection against sharks. The fence consisted of slender timber stakes driven into the mud of the river bed. From my memory the pool would have been less then eight metres wide but over a hundred metres long. I used to exercise myself by swimming to and fro over a measured distance. On one occasion I clocked myself over eight kilometres. The pool would be crowed in the summer but I doubt that it was any less a health hazard than Giffin's billabong.
Surf?.. Surf!!? ... We didn't know of such phenomenon. In fact going away to the seaside or the bush for a holiday wasn't included in our calendar of annual activities. I'm sure that our parents would have dearly loved for us to have the opportunity "to look out of another window" once a year. Only on two occasions in our whole childhood did we go away for a holiday.
Around 1934 Ted had arranged with a fellow wharf ie to rent a house at Manly. Swimming at Manly was like swimming at Mowbray Park -- in mud. At best, the beach was firm mud. When the tide was in Ted enjoyed the water with us, while we all were excited to explore the soldier crabs and other wild life at the seaside. I became very adept at picking up jelly fish in such a manner that I could avoid the stinging cells. (Cousin Molly Murray was holidaying with us. She got stuck into the peaches growing next door until we discovered Molly with grubs from the fruit crawling around her face).
The second holiday was in 1938 (or 1939) at Shorncliff. At last a sandy beach. It really was a great holiday for the family although Kevin and myself were now employed and could only enjoy the family on the weekends. But it was great to feel the sand between your toes and to play with the younger kids building sandcastles or exploring the marine environment.
I remember myself as (in my mind) an adventurous spirit -- I remember mum seeing me as a bobbing head way out to sea she saw me as I rose up on a crest of a wave to sink out of sight in the trough of the next. Mum never swam and naturally her parental cares for our safety took over. Hence, mother's frantic beckoning to me to come in to shore. My mum, a typical parent.
The older ones used to enjoy the pier - lots of slot machines, including 'flick' machines. The only negative memory of the holiday was that the beach was periodically invaded by sea lice and 'blue-bottles' (Portuguese Man-Of-War). Poor Imelda was stung by the tentacles wrapped around her body and she screamed in agony.
I would be giving a distorted picture by dwelling on the lack of regular annual holidays. Ted worked with the local ALP to organise one day excursions to local pleasure spots, now most built over -(Walton Bridge, Mt. Cootha) as well as more distant places such as Mt.Tamborine. As an older child I went on a school organised trip on the steam vessel, the Koopa, which travelled to Redcliffe. I took a keen interest in the operation of the reciprocating steam engine, something I had known about only in books. To my mind that was a thrill.
On balance our swimming activities were a positive for our physical development. We all came to be adequate, if not excellent, swimmers. While none of us played in the traditional football or cricket fixtures I believe that swimming, later bike riding (for fun), and still later dancing (also for fun) all helped to strengthen our bodies for our later years.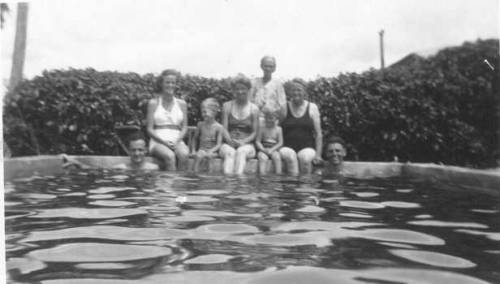 Ted played a mean game of tennis. He had a skill in 'chopping' the ball, specially when invited to playing the women on 'ladies day' on the court. Ted would roar with laughter when the 'lady' was anticipating the return of Ted's ball, only to find that the ball fell short or even went backwards. Kev was the best tennis player (still plays) while mum reckoned that I played with a hole in my racket.

Ted took a keen interest in the cricket on the radio - especially the Sheffield Shield or international Test Matches. As he explained to his children, "If you want to work with the masses, you have to take an interest in what the masses do (e.g. cricket)". None of us took Ted's advice seriously. I had almost forgotten Ted's guidance but for the criticism of my neglect to encourage competitive sport with my own children. (I reserve my defence for a later contribution).

Contact Takver with questions or comments about this web site.

This Page is linked from: http://www.takver.com/history/index.htm
© Takver. All Rights reserved except for nonprofit, union or educational use, please credit source.
Last modified: May 5, 2000