May Days in Brisbane
The official and unofficial celebrations of May Day in Brisbane in 2003
Ferals and anarchists Reclaim the Streets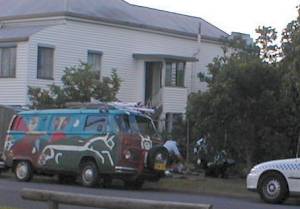 Some police harrassment and intimidation before the RTS gets under way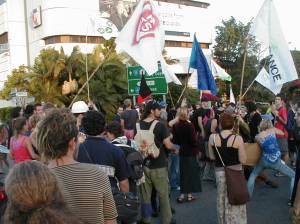 As the police block the street a Reclaim the Streets Party begins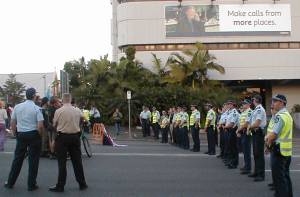 Line of police on Main Street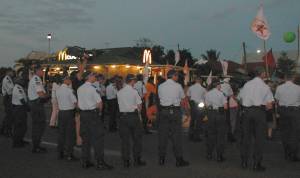 Police effectively blockaded McDonalds and a nearby KFC outlet

Serious action by the Queensland Police. The Police Commisioner sends 150 uniformed cops, 12 plain clothes police, Special Operations, and the Traffic Response Unit, with 2 buses, 14 marked police cars, 4 unmarked police cars, 4 tow trucks and a police helicopter to help Reclaim the Streets people celebrate May Day. 150 people in fancy dress with flags, music, dancing and singing helped ensure we all had a good time.

The police presence was extreme overkill. Maybe someone has been earning a bit of extra money telling the Police great big porkies about what was planned? I hope they are a long way away from Brisbane because someone is going to have to do some fast talking about why the Brisbane Police have just blown the overtime budget, and several thousand dollars, helping a small group of hippies, ferals and other troublemakers to celebrate May Day.

So what are we doing celebrating May Day with the Brisbane Police? Well, we read the little yellow notice: a combination dance party and blockade: reclaim the streets. What a great way to spend May Day, we thought! An autonomous, do it yourself, protest\celebration for the [extra]ordinary people's day! Sure the Trades Hall are holding a 'proper' protest, with a permit, on Monday, but we wanted to do something on our special Day. So about 3pm we rock up to Raymond Park. About 3.10 a handful of people turn up. Then three police cars and eight police. They walk over to the people sitting on the grass. How is it that protesters are instantly recognisable? I don't know why but they are! The next thing is some poor bugger, the only one wearing a suit and tie, is having to unpack the contents of his decorated combi all over the footpath. Nobody else pays any attention. They are swinging on the swings, sitting on the grass, having a good time. After about twenty minutes the cops don't find what they are looking for, give up and go away.

So we all sit around on the grass some more. A well organised young woman is handing out dress ups. Who wants the radioactive rabbits ears? All three of them, bright pink and yellow! Some lucky young man spends the next three hours as a three eared example of the excesses of science and imagination! So after a while someone says, who wants to reclaim the streets? So some of us get up and meander up the grass towards the street, and stop. A few off us follow. Someone hands out hooters and gives the kids balloons. One person has an orange bean bag. A fat woman has brought her own folding chairs. Someone is drumming. After a while the rest of the group dawdle over. A lot of us sit down on the grass. Time to relax and have a chat. More music. More dress ups. There is no hurry, we are having a good time.

A couple of blokes in expensive sports shoes, shorts, dark t-shirts and short back and sides sit down next to us. 'Where are we going?', they ask the woman sitting next to them. Who cares? Well these two plain clothes police would obviously like to know but they are out of luck. 'Well, we just wait till someone looks like they know where they are going and we follow them,' was the unhelpful reply.

We now have 6 bikes, one skateboard, several strollers [ baby optional], a mobile platform with PA and music gear, lots of flags, five dogs and about one hundred and fifty men, women, children, babies and mutant rabbits. After quite a while [no hurry, we are having a good time] a rush of energy goes through the crowd. We are on our feet and off into Main Street, Woollongabba. The police suddenly appear [where did they come from?] and, waving madly, try to keep us together. Only a couple of blocks down the road, under the Telstra Building and outside McRubbish we are surrounded. Where did all the Police come from? We are not selfish though, we are happy to share our party, but the police are just not in the right mood. Too much serious organisation is a real bummer. And we can't get to where someone thought maybe we would party. So we stop there on the corner and be spontaneous. People come out from the flats to join us. 'I can't hear my TV with all the racket you are making.' Yeah but we are better than TV and we get to write the script. There on the street we are having a good time, drumming, singing, dancing. Someone is playing ring a ring a rosie. Lots of flagwaving.

More police turn up. Gee they could have given us a hand with the set up if they were planning to join in the fun. So the Reclaim the Street mob are on the street. The police, who now outnumber the fancy dress mob, form a circle around them. Then the curious onlookers and supporters form a ring around them. It looks a bit like a gilbert and sullivan performance. It is like a folk dance, but the police do not get to sing. No traffic, the streets are reclaimed. On the streets the hippies and ferals sing and dance some more. The police stand there. There is no hurry, we are having a good time. A local Murri man starts a speech claiming prior ownership by indigenous people and welcoming us to their country. Someone gets up to talk about globalisation and mammouth company profits. It is about 5.25pm.

Maybe the police have run out of patience. Maybe they weren't having a good time. A pity. Anyway one of the police, using a mike, identifies herself as Gail Hogan and informs us we are committing an unlawful act and if we do not disperse we may be arrested. Nearby some RTS people overhear the Special Operations Group explain what is going to happen. They were giving instructions to police to move people from the intersection. Anyone who did not cooperate would be arrested. 'If it is a small group lift them if necessary. If it is a big group take the van over to them.' At this point it looks like mass arrests. The police had brought up reinforcements and seriously outnumbered the protesters.

Anyway, Gail Hogan is talking over the Murri speaker. People call out, 'Show some respect.' And what do you know, she gives it up and waits her turn. The next time she gets all the way through reading the riot act. There is some fast talking. Unless you were right up close you couln't hear what was happening. A deal is struck. The dancing and singing mob move off Main Street onto a side street, maybe Linton Street. By this time they are not letting people in or out. If you are surrounded by coppers you have to stay put. No worries. No hurry, we are having a good time.

More singing and dancing. By now it is getting dark. Music, drumming, dancing, lots to entertain the fifty or so onlookers and supporters standing on the footpath. 50 happy ferals, hippies and assorted troublemakers sing and dance in the street. There is some impromptu street theatre. The one hundred and fifty police officers are a bit less tense and humourless. We sit around a bit more. It looks like no arrests after all. Oh, except for the bloke who lit up his weed before it got dark. Lets' hope someone went and bailed him out. After a while, no hurry we are having a good time, we set off again in the dark. Police, onlookers and troublemakers set off down the side road back to the park. In the dark it is hard to see who is who. Just a couple of hundred tired people strung out along the road. Some one is singing Kookaburra songs. There is just time to go and have a wee before we set off home. As we go we can hear people sitting in the park singing. There is no hurry, we have had a great day, a May Day in Brisbane.
Union Members on the march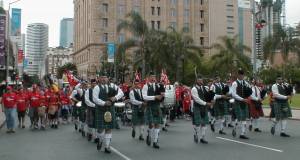 Several pipe bands provided marching music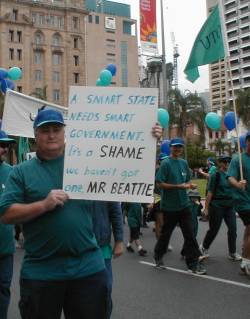 A teacher criticizes the policies of the Premier, Peter Beattie, who lead the march with members of the Labor Government
Union members were out in force today for the traditional Labor Day March in Brisbane. Fifteen thousand people joined the March. Lead by the State Premier, Peter Beattie, and members of his Cabinet, the march went from the City to Musgrave Park. Unions were well represented with members wearing coloured t-shirts and carrying placards with traditional messages of solidarity and action to defend working people. The main topical themes of the March were improving conditions for working families, defence of Medicare, smaller classes in schools and improvements in services.
A large number of Unions participated, they included: the CFMEU, ETU, LHMU, ASU, AMIEU, TWU, QIEU, MEAA, AMWU, CPSU, the QPSU, NUW, and the Bacon Factories Union of Employees. The teachers union, the QTU, marched with blue and green banners and balloons, carrying banners, 'Size does matter, Peter' and 'A smart state needs smart Government. It's a shame we haven't got one Mr Beattie!'
The Queensland Nurses Union (QNU) made a good show with purple and green balloons, pink flags and placards supporting Medicare. The firefighters, the UFU, brought along an antique fire engine and a modern unit. Most present were celebrating Labour Day but the CPMEU and the Builders Labourers were celebrating May Day. The MUA advocated international cooperation to protect workers around the world and called for a larger Australia Merchant Navy. At present only 4 percent of shipping around Australia is done by Australia boats.
Several pipe bands entertained the crowd with Australian and Irish tunes. They looked a treat in their kilts. Several dogs, a small dragon train, some buses and trucks and floats also joined the March.
A number of other issues were raised by participants. One Union member wore a t-shirt with the slogan, 'I come here to work, not to die.' Medicare was identifed as an issue by many unions. Some slogans were: 'It works, its fair, its Medicare' and 'Bulk billing, the right of all Australians'. Other placards and banners read: 'No ifs, no buts, no more job cuts', 'Howard: Deaf, dumb and blind to Democracy'; 'Sanity and Peace not madness and terrorism'; 'Not in my name'; and 'We are all Yanks, Might is right' and 'Workers of all countries unite'.
Alex Scott from the Public Sector union spoke to ABC news, that the march comes on the eve of industrial action. "This is the largest-ever turn out by members of the public sector union, it shows our members are completely pissed off with the fact this government is refusing to address the crisis within the public services."
Bringing up the rear were many different groups: The Labor Party; the Labor Club from the University of Queensland; the Greens, the Communist Party of Australia, Brisbane Branch; the International League for Peace and Freedom; the Queensland Peace Network; a small group of anarchists; Socialist Alternative; The Association of Labor Lawyers; and Rainbow Labor. The socialists lead a rousing chant of, 'No racism, no war, this is what we are fighting for' and 'Medicare not missiles.'
At Musgrave Park the marchers were happy to sit down for a beer and a sausage in a bun. There were rides for the kids and somewhere to sit and celebrate the achievements of the Union movement.
The Brisbane Labour Day march and carnival at Musgrave Park is in a long tradition of working class parades. Such parades one hundred years ago involved members of trade unions, friendly societies and fraternal orders often ending in an athletics carnival and picnic.
Text - Helen
Photos - Takver
References
Relevant Links


This Page is linked from: http://www.takver.com/history/index.htm
© Takver. All Rights reserved except for nonprofit, or educational use, please credit source.
Last modified: May 15, 2003